Our visit to Gargrave was mainly to visit Desnée's nephew Adrian and his partner Debbie and it was lovely to see them both
again. Here they are enjoying their third helping of Desnée's roast dinner!

2015 - Cotswolds and Yorkshire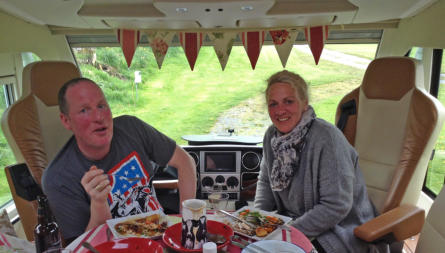 We also had a lovely afternoon walk with Debbie's
cousin's children, Meggie and Aaron. They were
delightful children who were a pleasure to be with.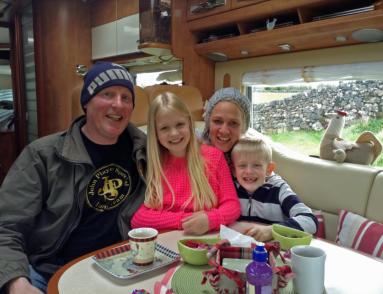 On past visits to this area, George had spotted a high hill to climb
just outside Hetton. It is part of Embsay Moor, 506m. At the top you
could see a cross and further away a monument. It was agreed this
time that George, Adrian and Debbie would climb up to the cross.
The hike was to be about a 10mile round trip. We all reached the
top and discovered that the cross is now a concrete replacement of
the wooden cross, which lay discarded a few metres away and that
monument was, in fact, a war memorial to the local men who lost
their lives in WW1.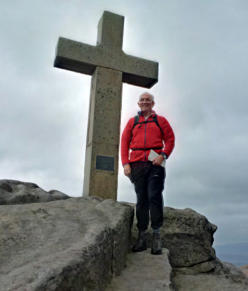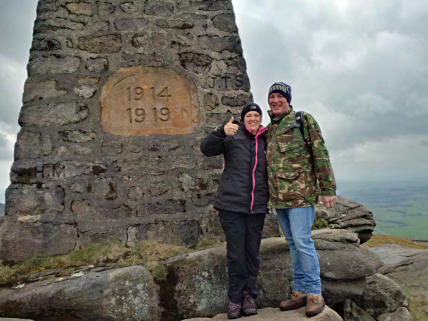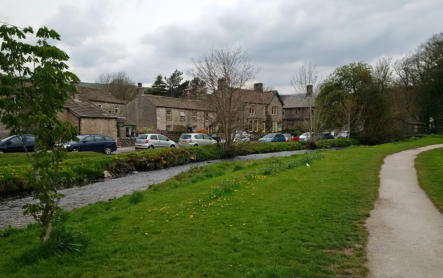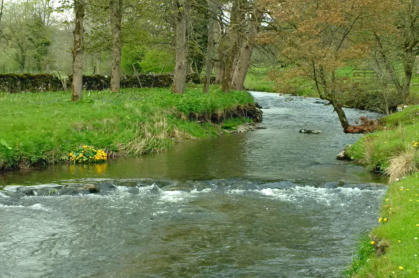 On a rather dull day, George set out to walk from the campsite to Malham, generally following the Pennine Way long distance
path. The route was very pretty and often followed the course of the River Aire. As the day progressed it became more a more
stormy and dull (see photos) and after a quick coffee and cake George set out for the return journey (via a different route)
hoping to beat the rain. The plan was unsuccessful and he returned to the campsite looking decidedly like a drowned rat!
(below left) the River Aire babbles and tumbles beside the footpath. (below right) a very gloomy Malham village!
After 5 days at Seat House we were on the road again and heading south to Broadway in the Cotswolds. Yorkshire is lovely but
we found it windy and chilly this year. Maybe the weather would warm up further south. It did, but the wind was still cold and
you could not sit outside for very long.
Broadway
is a delightful Cotswold village and the Caravan Club campsite is just a short walk from the village centre. Alongside
the campsite is the old trackbed of the Cheltenham to Stratford-upon-Avon railway line, which was part of the Great Western
network. Opened in 1906 and closed in 1960 it provided a link from Birmingham to the West Country and also provided a goods
service for the fruit growers of the Vale of Evesham. The Gloucester and Warwickshire Railway group are enthusiastically
restoring the route and hope to bring the railway to Broadway by 2017. During our visit work was underway recreating
Broadway station which is just across the road from the campsite.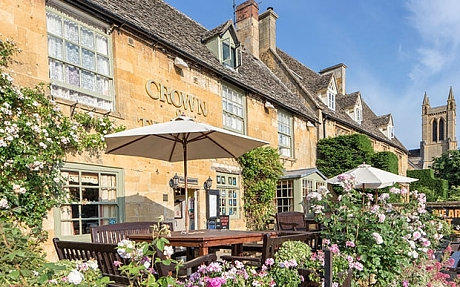 We had a date in Broadway to meet up with Paul and Sue
Brennan and with John and Gill Davies to discuss plans for
the forthcoming Carthago Owners UK Gathering in Stratford.
We met at a very fine local pub in Broadway, the Crown and
Trumpet Inn. A very welcoming landlord, a selection of
local beers and ciders and good grub - recommended.
There is also a very pleasant terrace to sit outside in the
evening sunshine (see photo right, copied from Internet).
During our time in Broadway we took a trip out to Evesham
and Pershore. Both were lovely towns, geographically and
architecturally but we were disappointed to find many
closed shops on the High Streets and those that were
occupied were largely charity shops.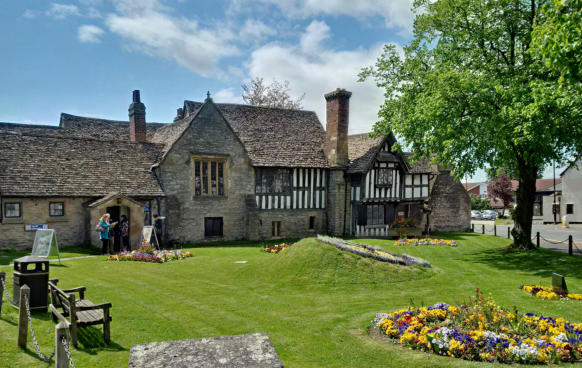 There were some lovely old buildings in
both towns, the Tousist Information office
in Evesham (photo right) caught our eye.
A more enjoyable trip out was to the
nearby National Trust property at
Snowshill Manor. We have visited
Snowshill before and were not
disappointed on our second visit. The
previous owner of the property was a
rather eccentric, Charles Wade, who
collected curios and memorabilia from
around the world.
His collection is so prolific that he dedicated the Manor House to storing and displaying and he chose to live in a much smaller
Priests House in the Manor's grounds. In this smaller house he surrounded himself with curios and kept a workshop for making
repairs.
(below left) the living room in the Priests House (below right) far eaching views of the Cotswolds from the garden terraces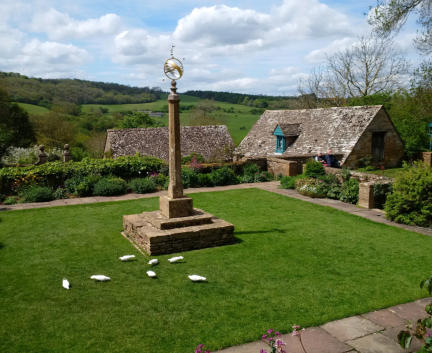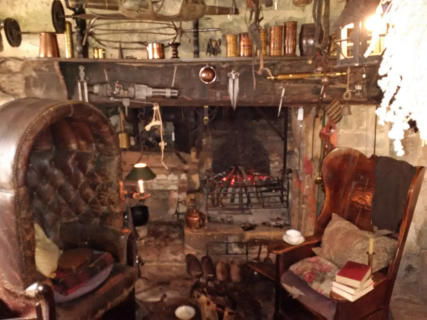 The Caravan Club site in Broadway is very popular and during our stay there it was full every evening - and it is not the busy
season yet!!! If you fancy visiting then booking ahead is essential. If you have not visited the area before, then you really
should. It is rural England at its best!
We moved on to
Stratford-Upon-Avon
and to the Riverside Caravan Park where we were joining the Carthago Owners UK Spring
Gathering. It is wonderful to meet up with so many fellow owners many of which have been good friends for several years and
also to meet new people who have a common interest. The banter is excellent!
These Gatherings are very informal but there are usually some pre-planned activities to join in (or not) during the day and then
we get together in the local village hall for a dinner each evening. It just so happened that there was a pub between the
campsite and the village hall - very handy!

Our first day comprised a boat trip down the River Avon to Stratford and then lunch at The Bear before a guided tour of the
town. The Avon is a very picturesque river and flows through beautiful countryside.
(below) the river bank dwellers largely ignore the strange creatures in the boat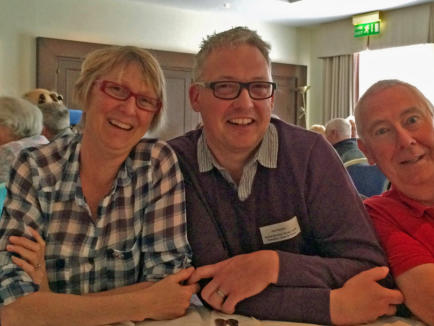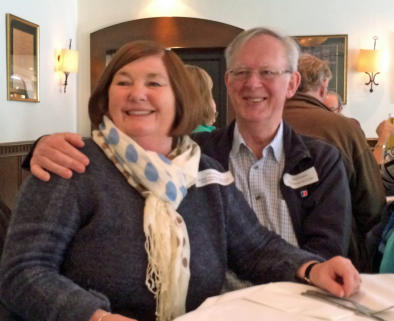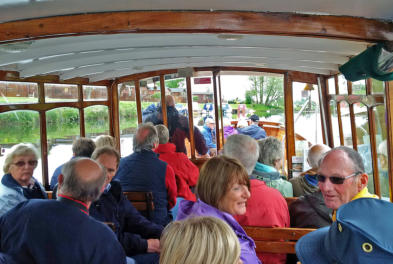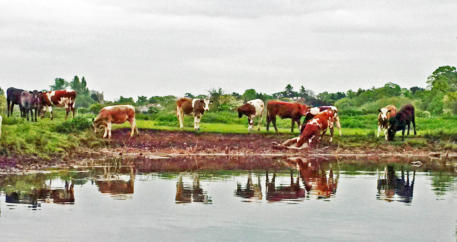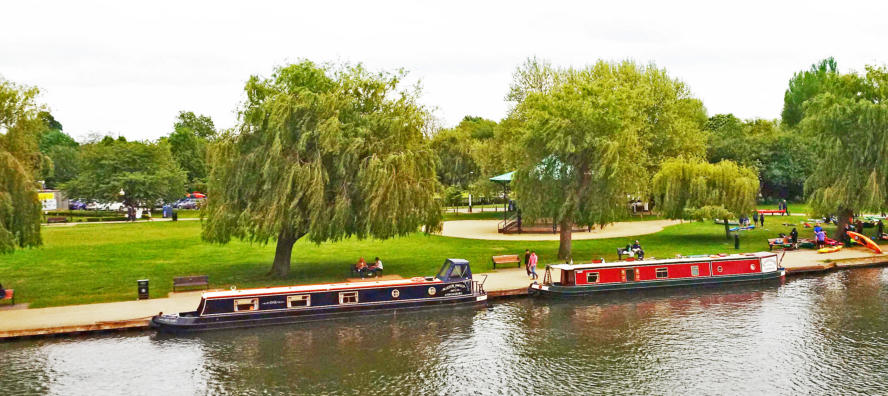 (above) narrow boats moored at Stratford-Upon-Avon
(below) Cath and Mike (left) and Debbie, Paul and Paul (right) enjoying lunch at The Bear, Stratford