2019 - France - September
Early September and we set off for Europe.
The purpose of the journey was to join up
with the Carthago Owners UK meeting at Le
Coin Tranquille campsite in Les Abrets, near
Chambery in France.
However, en route we decided to visit
Dusseldorf and to go to the Motorhome and
Caravan Salon at the Dusseldorf Messe (the
exhibition centre).
To reach
Dusseldorf
we needed to cross
Belgium. Belgium is never a pleasant driving
experience and one should avoid the
Brussels ring road if you can.
It was a long driving day. We arrived at the
stellplatz at the Dusseldorf Messe to discover
that there was no space available and were
directed to another temporary overnight
parking site just a few kilometres away. It
was just an area of wasteland but there were
the best part of 100 motorhomes already
there.
We booked in for two nights.
We were given directions as to how to reach
the Dusseldorf Messe by public transport.
It was all very well organised - the usual
German efficiency!
The next morning we took a bus and then a
tram to the exhibition hall.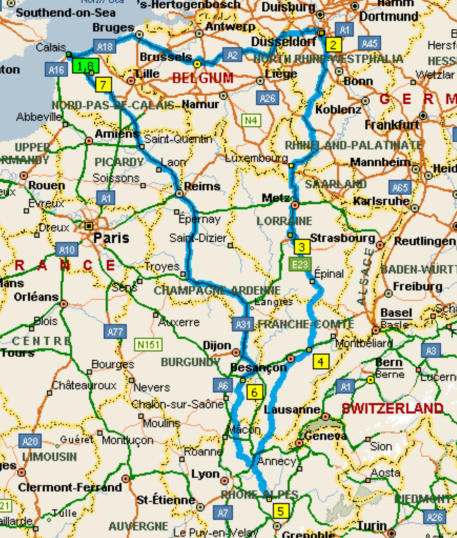 Visiting Dusseldorf was a last minute change of plan as we were intending to drive
down through France. However, we were interested in looking at the Malibu panel vans
as a possible option for downsizing our motorhome, at some point in the future. When
we realised that the Dusseldorf show was being held on the same week, as we were
passing by, then it seemed foolish to miss the opportunity to pop in!
The Dusseldorf Caravan Salon is a huge exhibition - probably the largest in Europe and
it is at this exhibition that the European camping related manufacturers show their new
models for the following year. The stands are also large enough for each manufacturer
to show all of their models.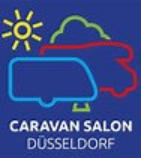 We had a good look around and were impressed with some of the 2020
motorhome models on display.
Our main interest was to look at the various models of Malibu Van. This is
manufactured by Carthago and has the same quality as the Carthago
motorhomes. The attraction for us was that it is under 3.5t and also Desnée could
drive it as well as George.

All the various Malibu models were on display and we were able to decide which model we would go for if we
were to downsize. We also decided that we preferred the metallic black paintwork.
We met a Carthago salesman, Christian, who we knew from visiting the factory in Aulendorf in previous
years and he offered to give us a quote on our specification choices. He also offered to part exchange our
Carthago but the offer on ours was not very good.
We left with an outline quotation and a pretty good idea of the options we would choose and the models we
did not wish to opt for.
We were due to visit the Carthago/Malibu factory in October and we had already booked a rental Malibu to
try out to see if we liked it. So, no decisions until after the test drive.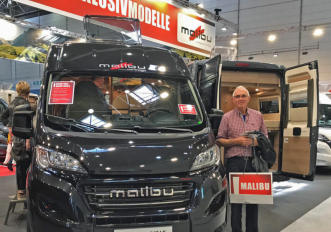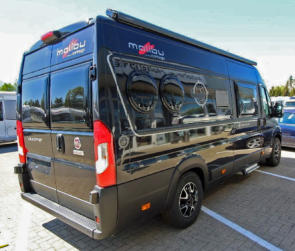 Time for us to head south into France and towards the Alps. A long days drive took us well down the
eastern side of France. We planned to stop just off the A31 at Pont-a-Mousson ,at an aire de camping car
which is right alongside the Moselle river. When we arrived the aire was full up. It was the start of a
warm, sunny weekend and places were busy. We decided to try a nearby campsite that we found in the
ACSI guide and which was just 21km further on towards Nancy. They had plenty of space and it was a
delightful campsite nestled in a bend of the Moselle.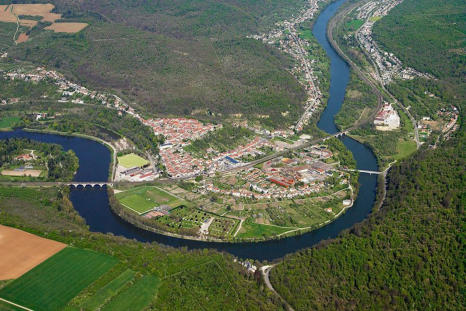 Les Boucles de la Moselle, Liverdun
was
charming and had its own on site restaurant.
We booked a table and enjoyed a really tasty
meal.
There was a very pleasant outdoor
swimming pool which looked tempting but
not quite warm enough for us to try!
Recommended if you are in the area.
Next day we left fairly early. We were on our
way to
Baumes-les-Dames
to stay on an aire
beside the Le Doubs river. We had stopped
here before an knew that the aire started to
fill up rapidly in the afternoon.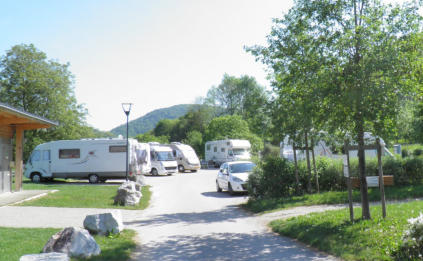 Baume-les-Dames is very close to the Swiss frontier
and the river Doubs wanders along the border.
The attraction here is the beautiful river scenery
and cycle tracks alongside the river.
We arrived by lunch time and were pleased to find
that several spaces were available. The aire is
clearly marked out with spaces and each one has a
10amp electricity supply. The baker visits in the
morning so that you can have fresh bread and
croissants!!
It did not take long for the spaces to fill and by mid
afternoon the aire was full.
George set off for a cycle ride along the river; down one bank and back up the other. Lovely sunny day and
very picturesque.
Our journey, next day, took us south west around the Swiss frontier and down to
Les Abrets
(
40km west of
Chambery)

in the foothills of the French Alps. Le Coin Tranquille is a delightful campsite and Carthago Owners UK
were holding their September Gathering here for the next 6 days.
Martine, who owns and manages the campsite was a simply, amazing host. She had arranged a coach trip day
out, a cycle ride and a walking tour plus laid on wonderful evening meals and entertainment. All excellent.
Le Coin Tranquille
is certainly a campsite that we would happily recommend.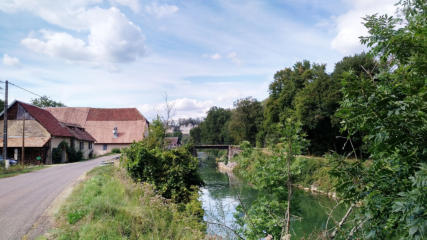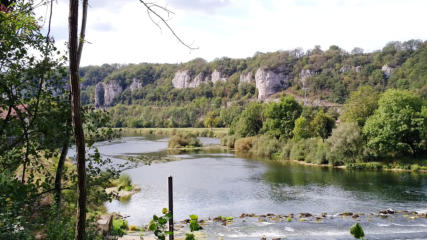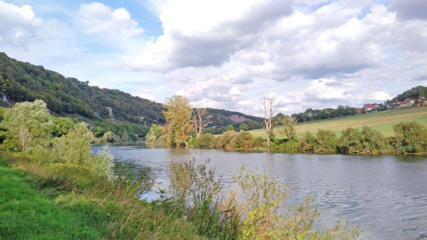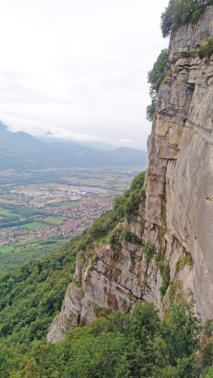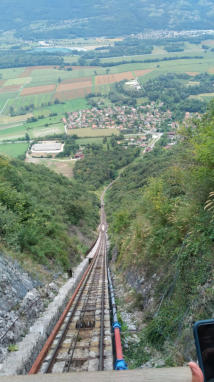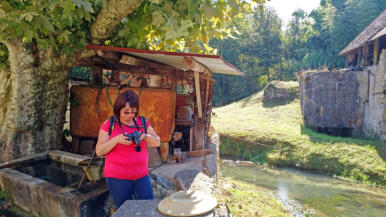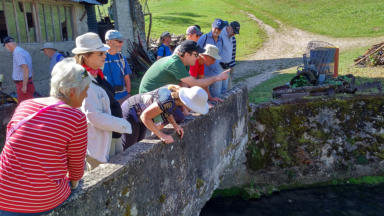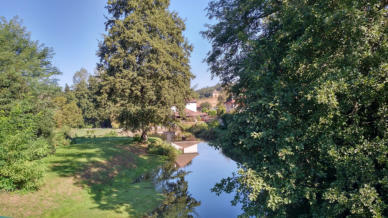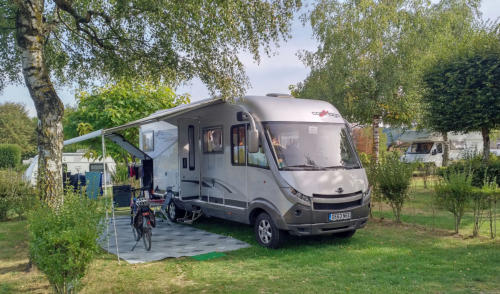 (left) on our pitch at Le Coin Tranquille
campsite.
(below left) three snaps from our guided
walk. The group playing Pooh sticks. Our
host, Martine, checking her photo
collection.
Little did we know that she was planning to
present us all with commemorative mugs
with our 'mug shots' on them !
(below right) our day trip out and our
journey on the Furnicular railway.
It was lovely to meet up with all our friends, old and
new, who are fellow Carthago Owners. Plenty of time
to enjoy the sunshine, a few beers and catch up on
their news since we last met.
After six days it was time to start our journey back to
the UK.
First homeward stop over was at an aire-de-camping-
cars in
Seurre
(
almost due east of Beaune on the Saone
river

).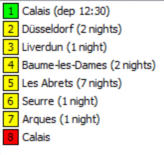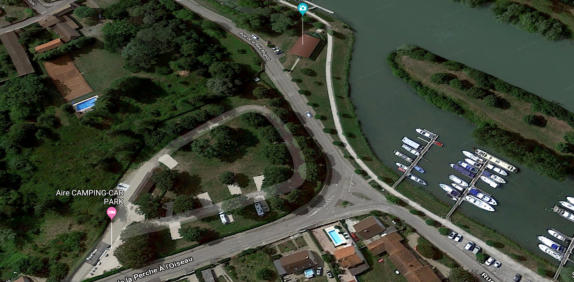 The aire (right) (
photo Google Maps
)
had been adopted by Camping Car
Park organisation. (
see card right
hand corner

). This organisation
have taken over many of the older,
free, French aires and provided
better facilities for visitors. You
purchase a membership card for
€4,00 and this gives you a
favourable, member rate for
overnight parking. Certainly, this
park was a big improvement over
the original municipal owned aire.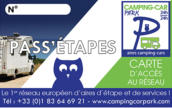 Desnée had problems with a broken tooth on her dental bridge and so we decided to travel home a little
quicker than we had planned. Consequently, the next day was a long drive , 550km, to
Arques.
This is a
regular stop for us, because it places us under an hour away from Calais. Arques has a municipal campsite and
an attached aire-de-camping-cars so you can choose whether you want to have toilets, showers, water and
hook up facilities on the campsite or just a parking space on the aire. There used to be a boulangerie within a
short walk of the site, to obtain bread in the morning. Sadly, this has now closed down - so no bread for
breakfast!
Next day a short hop to the ferry at Calais and back home by early afternoon.