2019 - Germany - October - cont:
After a two night stay in Tennsee we turned back towards Aulendorf. We had to get the rental van back by
10:00 on Friday morning and so we needed to be close by on our last evening stop.
We checked the Bord Atlas (
guide to Stellplatz in Europe
) and found a suitable location at
Bad Wurzach
just 30
minutes east of Aulendorf. The stellplatz was just on the edge of town and it was an easy walk into town to
shops and to pay for the overnight stop at the Vitalium, which is a health spa and medical centre.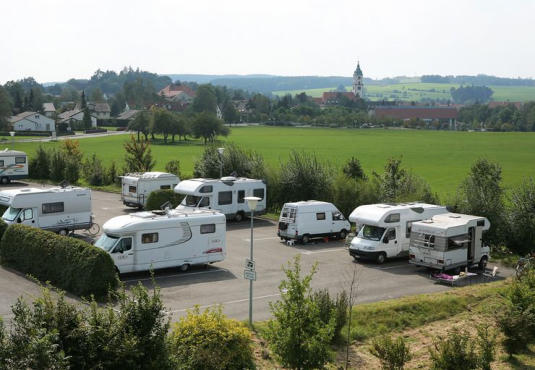 The formidable lady in the Vitalium
reception was very specific as to
where you could park and where
you could not. The stellplatz fee
was reasonable and gave you
access to the Vitalium facilities
should you wish to use the spa, etc.
We had found that we did not sleep
well at all in the transverse bed. It
just seemed odd so we decided,
today, to turn around 90 degrees
and sleep lengthwise i.e. across the
bed. Although our lower legs and
feet were dangling over the edge
we both had a sound nights sleep.
Problem solved !
Bad Wurzach seemed to be a pleasant location and worth remembering for any future Carthago factory
visit.
We returned to Aulendorf in good time and were pleased to learn that our Carthago motorhome was
ready for us and that all the work had been carried out successfully, at no charge to us. The cause of the
problem was analysed as water ingress. The motorhome has a 10 year water ingress warranty.
The rest of the day was spent looking at a variety of Malibu vans in the showroom to answer the various
questions in our heads that had arisen during the rental period.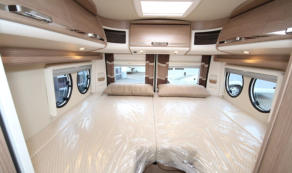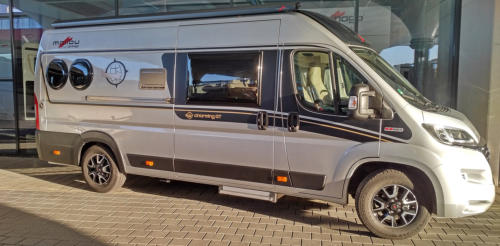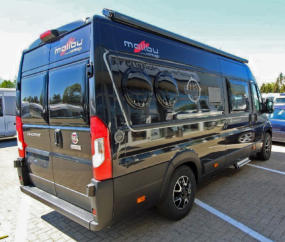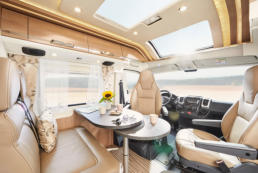 We had been so impressed with the quality and characteristics of the van that we decided to seek a further
quote from a UK dealer. We were offered a much improved quotation for part exchange which nudged us
towards committing to trading in our lovely Carthago motorhome and purchasing a new Malibu Van. Much
food for thought!
Our journey was now due north as we were going to visit some friends in Germany that we have known for
many years, Rolf and Marita Jungbluth. They live in Borken just south west of Kassel. It was too far to
drive there in one day and so we chose to stop at Rothenburg-ob-der-Tauber.
Rothenburg-ob-der-Tauber
is a spectacular medieval town. We have visited several times. There is a
stellplatz right outside the city walls. You pay for your overnight stay at a machine, which has a touch
screen. My old fingers were too cold and dry to make the touch screen work and by the time it recognised
that I had touched a button the transaction had timed out and gone back to the start screen - arrrrgh! After
a while a young German boy of about six or seven came up to me and asked if I wanted some help - in
perfect English!! He whizzed through the transaction and told me to insert my credit card. Job done! He
walked away with a cheery wave and looking very pleased with himself - bless him.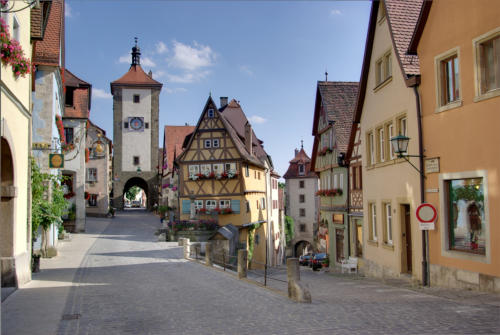 (left) the classic photo of
Rothenbourg-ob-der-Tauber. You can
see several more from our previous
visits.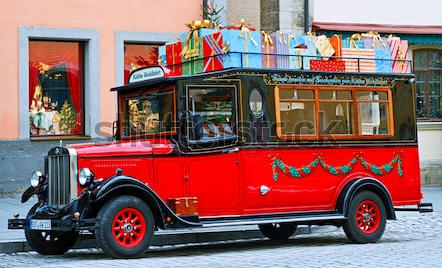 One of the big attractions in Rothenbourg odT
is the Kathe Wohlfahrt shop. It is the most
amazing Christmas shop!! It is only a small
shopfront but it is huge inside, on multiple
levels and packed with every type of
Christmas decoration you can imagine. But,
my goodness, it is expensive and we felt that
the prices were aimed at the Japanese and
Chinese tourists.
We thought we would just look but not buy.
Guess what? we spent about £50.00 on just a
few items that we could not resist!
North again to
Borken
where we were invited to park in Rolf and Maritas driveway for two nights. It was
a bit of a wriggle but all was fine and we were parked up next to Rolf and Maritas equally large Carthago.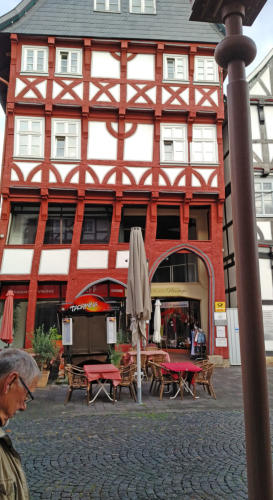 Apparently, the town was founded by St.
Boniface in 724AD.He had cut down a very
large oak tree and used the timber to build
a small church. Some of the same timbers
have since been used in the construction of
other buildings in the town. The present
church was built of stone in the 12th
century.
Beside the church was an unusual
sculpture. A very large table and chairs.
Rolf and George examine it and agreed
that if they were younger they would have
climbed up into the chairs!
Rolf and Marita were wonderful hosts
and provided us with breakfast, lunch
and dinner each day. They had
moved, north, to Borken from
Landsberg-am-Lech in Bavaria to be
nearer their daughter. The sale of
their grand appartment in Landsberg
had allowed them to buy a beautiful,
large house in Borken with a very
large rear garden. Marita is a keen
gardener and grows her own
vegetables and fruit whilst Rolf has
some very large sheds, garage and
workshop to tinker in.
We took a day out to the nearest
large town,
Fritzlar
. Another German,
medieval town with some quaint,
wonky, old buildings --- and quaint,
wonky old men !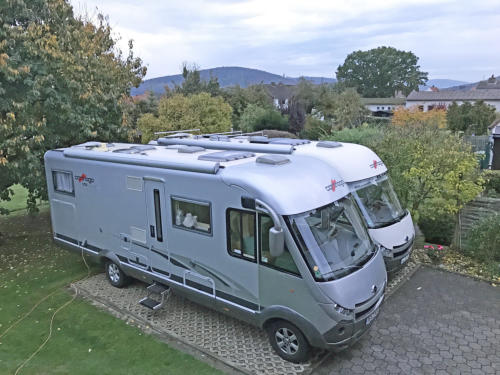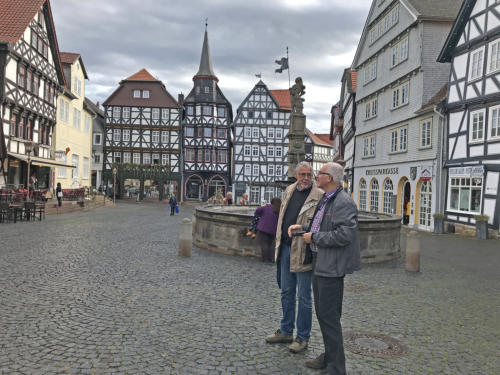 All too soon, it was time to leave. Rolf and Marita had looked after us really well and made us feel so
welcome. Unfortunately, both of them were due to have significant hospital treatment later in the year
and we gave them our best wishes for a speedy recovery. We hope to see them again sometime in 2020
either in Germany or UK.
From Borken we drove due west towards Calais. It was a heavy traffic day and progress was slow. We
stopped overnight on a stellplatz in
Alpen
, which is just on the west side of the river Rhine and close to
the Dutch border.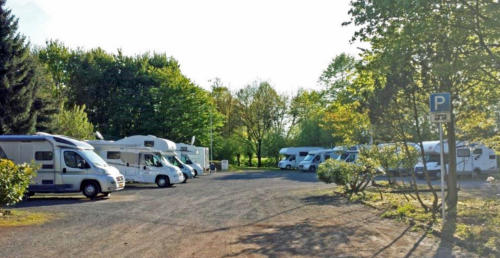 The photo (right) is taken from the
Internet, in summer. When we
visited there was only one other
motorhome on the stellplatz.
It is a convenient, quiet location
next to the local tennis club. A few
hundred metres along the road is a
good sized supermarket where you
can buy your groceries and fresh
rolls in the morning. Handy to use
when you are outbound.
The next day we entered Holland and then Belgium on our way to Calais. The traffic was bad again and
there were long stretches of motorway where vehicles over 3.5t were not permitted to overtake. There
were also several stretches of motorway roadworks where the speed limit was 90 kph but 70 kph for
over 3.5t. Really frustrating and lent more influence to the argument to downsize!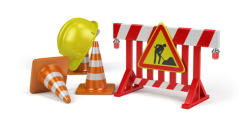 All would have been acceptable until we reached the very centre of
Antwerp. Everywhere you turned the road was closed or only one way
because the city centre roads were undergoing reconstruction. Bridges
had disappeared from where the SatNav expected them to be - it was a
nightmare! We were taken down dead end roads around the dockland
area and had to make multi point turnarounds. In exasperation George
ignored all further navigation instructions and followed his instincts.
The worst part of the journey was around Antwerp. The Ring Road was blocked by an incident and there
were 45 minute delays. The SatNav is set to automatically find another route if the delay is longer than
20 minutes. So, rather than the ring road we were guided through the middle of Antwerp. The old
concrete slab rods were in atrocious condition and we crashed and banged our way through busy urban
streets, with Desnée complaining that our drinking water was spilling over the tops of the glasses.
We found our way out of the city and were heading west. All was well. We had lost at least an hour or
more. We would have been better off sitting in the original traffic jam for 40 minutes!! It was still heavy
traffic all the way to Calais - not a good day!
Chilled out a bit on the ferry and then battled the M20 and M25 rush hour traffic on our way home! Happy
touring ! This was the last major trip for 2019 and we look forward to travelling again in 2020.