2016 - Germany, Switzerland, Austria
This trip we decided to cross the channel using the Harwich - Hook of Holland route. We were concerned that the
French may go on strike at any time and also there were troubles with immigrants attempting to board lorries bound
for UK. From the immigrant camp, known as The Jungle, there were often groups of young men blocking the
motorways in an attempt to stop the trucks, so that they could climb aboard.
As it turned out, the overnight route to Hook of Holland was very good. Large modern ships, good food, comfy cabins
and all very calm and orderly. Will definitely use this route again when we are bound for Germany.
We got lucky , as we were the first vehicle off the ferry. A quick passport check and we were on our way by 08:00am.
The route through Holland was pretty straightforward but became very busy along the Rotterdam Ring Road. Pretty
countryside.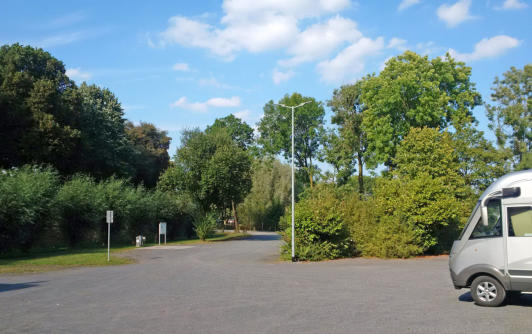 ALPEN [2]
Our first stop was on a stellplatz in the
small town of Alpen, near Duisburg in
Germany. It is just off the A57 motorway
and about 20km nort west of Duisburg
The motorhome parking spaces are at the
tennis club. The charge was around €10 per
night which included 16A electricity.
A few hundred metres away was a Netto
supermarket where we could stock up with
provisions.
Alpen is a pleasant, small town and if you
wished you could spend a day there.
RECOMMENDED STOPOVER
Next day were were back on the road and heading south. Beautiful hot, sunny weather and empty roads. It was good
to be back in Germany.
Our next stop was planned to be Bernkastel-Kues on the Mosel, where we have stayed several times before. But we
were making good time and so pushed on further south to the banks of the Rhein.
BACHARACH [3]
This is one of our favourite stops on the west
bank of the Rhein.
The stellplatz is right alongside the river and
there always barges and tour boats to watch.
The town is pretty but small. A few hours and
you have seen it all.
The stellplatz is part of the adjacent campsite.
It has electric hook up and clearly defined
parking bays.
Another recommended stop.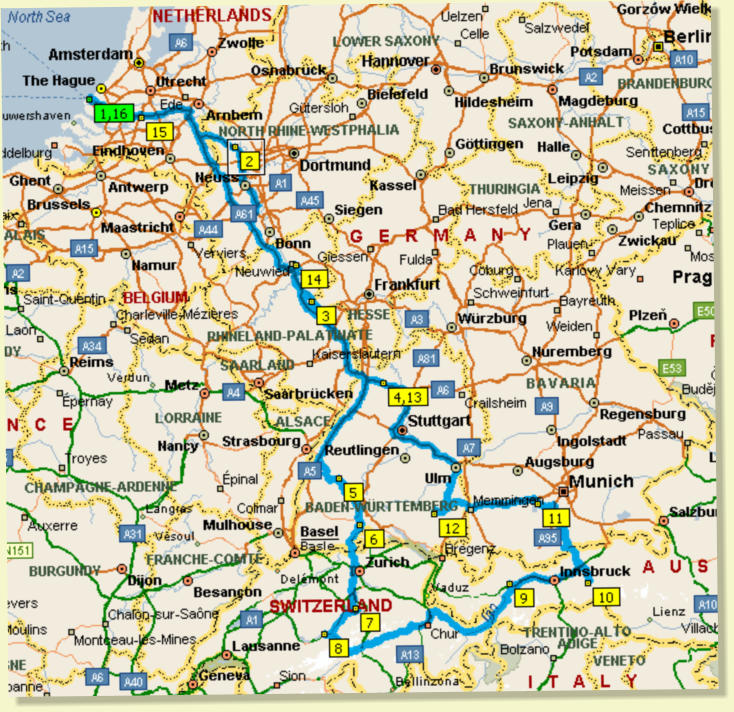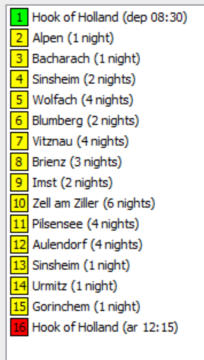 View of the Rhein valley from Bacharach town
(not one of my best panorama shots !)
The following day was just a short trip to
SINSHEIM [4]
Another stellplatz beside the open air swimming pool.
Sinsheim community are working hard to develop the stellplatz into something quite special with toilet and shower
block included. It is already a modern stellplatz with clearly defined parking bays and 16A electricity available for all.
If visiting you need 1€ or 2€ coins for the parking meter as it will not accept UK debit or credit cards. The overnight
charge is 6€ - electric is a separate meter.
We stopped here for 2 nights as we wished to visit the technical museum. The museum was a 10 minute cycle ride from
the stellplatz on quiet back roads.
We were blown away by the number of exhibits and the presentation quality of the museum - simply wonderful! There
is a sister museum in Speyer (not far away) and we certainly intend to visit that one as well. The sister museum has a
campsite as part of the museum complex.
Both museum towns, Sinsheim and Speyer are close to Hochenheim. If you are in the area then do take time to visit -
you will not regret it! Click on the logos (below) to visit the websites.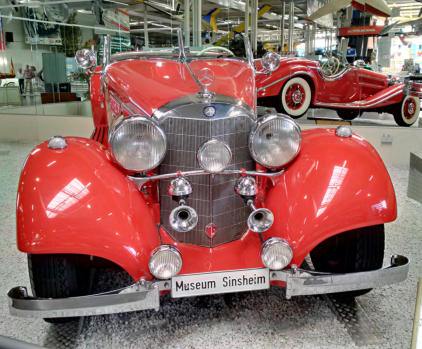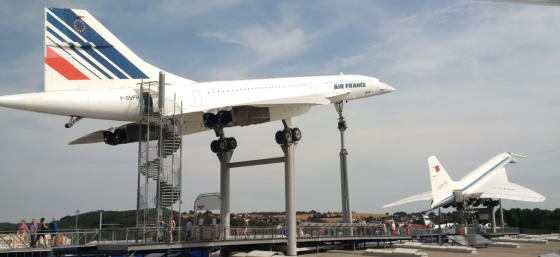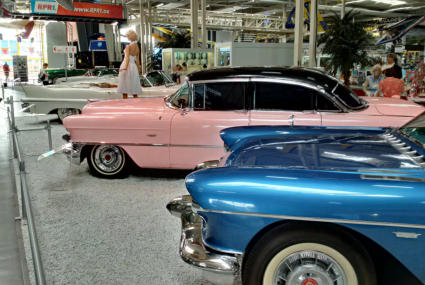 The stellplatz is just 5 minutes walk from the town
centre. Easy to pick up fresh rolls for breakfast and
better still an amazing Ice Cream Cafe that served
delicious desserts. The best was a fruit pizza which
comprised an ice cream base (the pizza bread) and a
topping of all the fresh fruits you can possibly think of
and then add a few more. See photo (right). Desnée
opted for the Ameretto ice cream.
There are many good reasons for visiting Sinsheim!!!
A short 70km drive took us into the Black Forest and to another of our favourite places,
WOLFACH [5]
.
Trend Camping, just a few kilometres east of Wolfach, is a delightful, small campsite which is run by a very friendly
Swiss couple. We have stayed here three times before and we enjoy the area which has so much to see and do. The
campsite supplies you with a free transportation ticket which you can use on the trains and buses. Just below the
campsite is the station. You can take your bicycle on the train and later cycle back.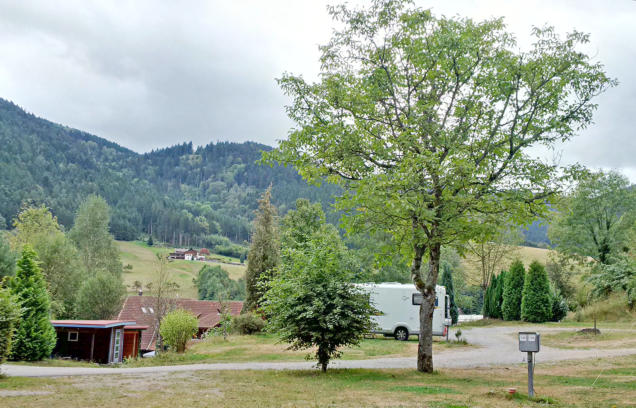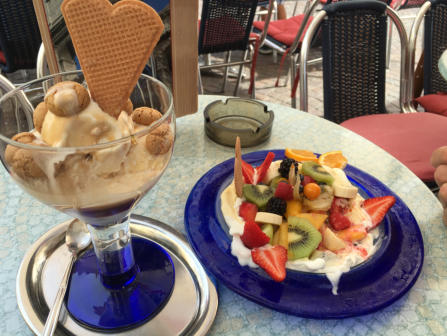 (left) the lovely Trend Camping site.
The on-site restaurant offers some
mouth watering dishes on their
menu. All home cooked - very tasty.
When we arrived in Trend Camping
we found Paul and Sue Brennan
(fellow Carthago owners) already
there and we parked up next to
them. We shared a few mealtimes
and beers with them!
We cycled out to the Folk Museum at
Gutach (a few kilometres away). We
had visited a few years earlier but it
was lovely to explore again all the
old farmhouses which had been
dismantled in various Blackck Forest
locations and the re-assembled at
the museum.
Photos on next page.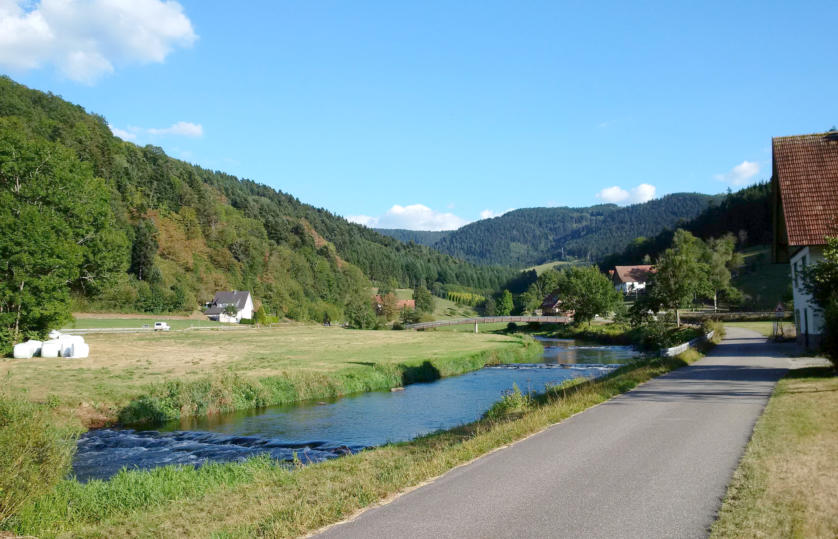 See next page for museum photos -->
(below) The cycle route along the picturesque valley.