Dreary winter days in UK. It was time to head south and find some sunshine. So, in early February we took the ferry from
Portsmouth to Santander in northern Spain. We were to be away for 30+ days returning through France.
We were expecting snowy roads in Spain as the week before we had heard of British tourists being stranded in the Pecos
mountains just south of Santander. As it turned out, the roads were clear but still covered with salt - arggh!
The ferry journey was very comfortable with a calm sea across the Bay of Biscay. Our ship, Brittany Ferries Pont Aven,
was very modern, however, we were a bit disappointed with the food - it was expensive for what we got and Desnée's
cooking is much better!.
We had read on the web that you could arrange for electric hook up on the ferry, to keep your freezer freezing!
Apparently, you needed to tweet Brittany Ferries via 'twitter'. We did this and, hey presto, it was all arranged for when
we boarded. Top marks to Brittany Ferries for this complimentary service !
The map below shows our tour route.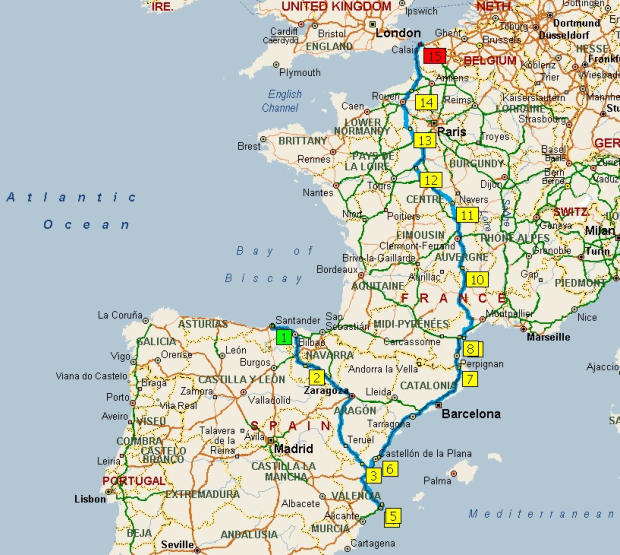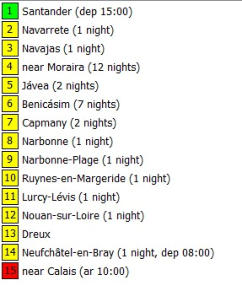 As you can see from the photo (below left), there was still snow lying on the high ground of the Picos mountains. Not to worry, it
was a lovely sunny day and as we drove south we could watch the ambient temperature gauge steadily climbing. Our first stop
was at Navarette campsite (below right) just outside Longrono.(2) A two and a half hour drive from Santander.
The owner did not speak any English and so George had to very rapidly re-learn his basic Spanish!! The site was very welcoming,
open all year, 10 amp electric hook up and just €16 per night with an ACSI card. The euro exchange rate stood at around 1.35 to
the pound so equivalent of just under £12 - bargain!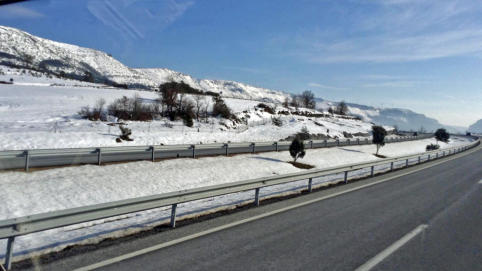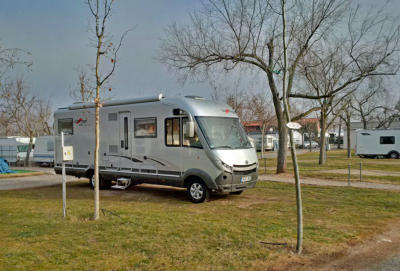 The campsite was easy to access and only a short distance from the Autopista. We set off again next day in beautiful sunshine and it
was a scenic drive across Spain to our next stop over at Camping Altomira, near Navajas (3). About a 5 hour drive. Again open all
year but this time it was very difficult access. The site was on a steep terraced hillside, each pitch had a steep ramp to get on and
there was an overhead gantry (used for shade netting in the summer) which was generally less headroom than what we needed.
Most of the pitches were too small for us to fit on but we did find one to wriggle on to. This site definitely not recommended for
larger motorhomes!!! However, we found many friendly fellow campers and socially it was lovely. Again €16 per night but we may
try somewhere else next time. You certainly needed to know your dimensions pretty well and be able to handle your vehicle and
know what you and it were capable of!!
Next morning we were back on the road early and heading for Moraira, just south of Javea on the Costa Blanca (4)

hidden under the (5)
on the map!
We have been to Moraira several times before. The town is beautiful as there is no high rise development. There are some gorgeous
chalets and villas and there is a fairly significant winter population of mainly British, Dutch and German people. Consequently, most
of the shops, cafés and bars are open and it is quite lively. (Many Spanish resorts can be closed down for the winter season)
The campsite has pluses and minuses. The site is quite densely covered with pine trees. Ideal for shade in summer but not so good
when you wish to sit in the sun in winter. (see below) The trees also drop needles, fir cones and sap on your roof. The fir cones make
a huge bang in the middle of the night and the pine sap is a devil to remove! The red squirrel munching through the fir cones did not
help. The upside is that at this time of year you have a choice of pitches - we have never seen it full and it is very convenient for
walking into town and meeting up with the many friends we have in the area. We stayed for 12 days and were reluctant to leave.
We shall be back again.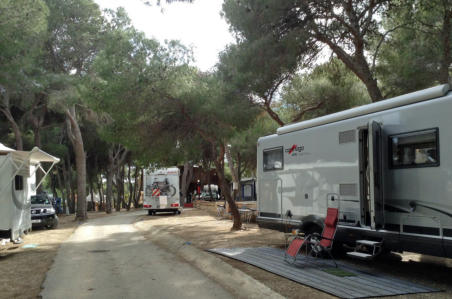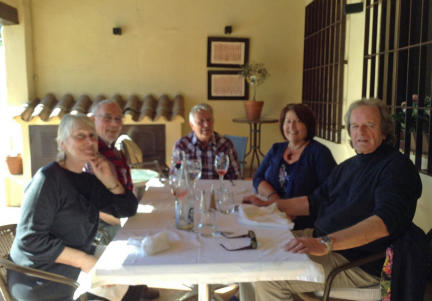 Our first social event was an evening out with, Bob and Caroline and Phil and Jacky Waters at a local Chinese restaurant. Phil and
Jacky come from Worthing but also have a beautiful villa in Moraira.
Sunday lunch was at The Olive Tree just a short stroll down the hill (see below left). It was a very warm day and we enjoyed lunch
on the veranda (see above right). Seated are l-r Melissa, George, Bob, Caroline and Ray. Ray and Melissa are residents in Alcalali a
few miles inland. Bob and Caroline are from Worthing but have an apartment in Teulada which is just inland from Moraira.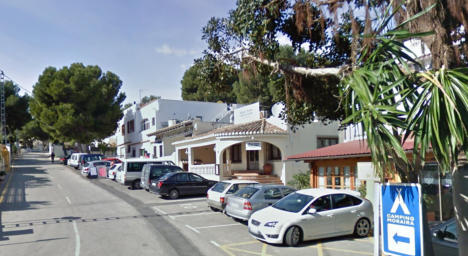 On Monday evening, we joined up with Bob and Caroline and
Dick and Pat Crooks for the jazz evening at Café del Mar
(below). This again is a short walk from the campsite and
the Monday evening entertainment is excellent. Pat and Dick
are residents of Moraira and Dick plays a variety of
instruments including the saxaphone and travels around the
area joining in the various gigs on a regular basis.

It was lovely to meet up again with all these friends.
Whilst we were in Moraira we also had a visit from Bob and Val Johnson. They live just south of Javea and were members of the
Carthago Owners UK. We joined them for lunch at a restaurant near Javea called the El Elefante. This was a beautiful old building
which was originally a hunting lodge built in the 1700s for one of the King Ferdinands of Spain. The food was very good and
reasonable prices. After lunch we were invited back to Bob and Val's delightful villa. Again Bob and Val are resident in Spain and
have established a lovely home for themselves. Below, El Elefante and owner with Val on far right.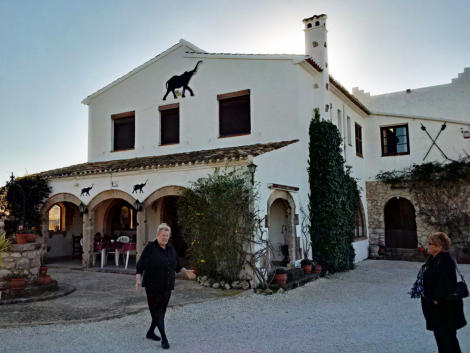 We enjoyed another grand day out and a spendid
barbeque at Ray and Melissa's villa in Alcalali. Alcalali
is in the Jalon Valley and the almond trees were in
bloom as we drove up the valley. Very pretty.
Ray is a first class barbeque chef and we were not
disappointed.The lunch was superb - well done Ray and
Melissa and thank you.
Below are a few snaps from the Moraira area. They are
taken from the foot of the lookout tower above El
Portet. El Portet is the northernmost part of Moraira
area.
- looking down on El Portet
- cliffs looking northwards
(the opposite side from El
Portet)

.
- El Elefante - the famous Elephant head mountain view
- Telephoto zoom southwards, Calpe in middle ground
and Benidorm in the distance -22 miles away! It was a
clear day!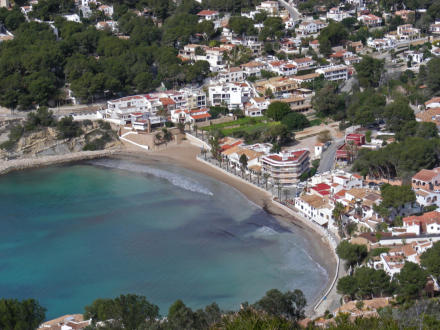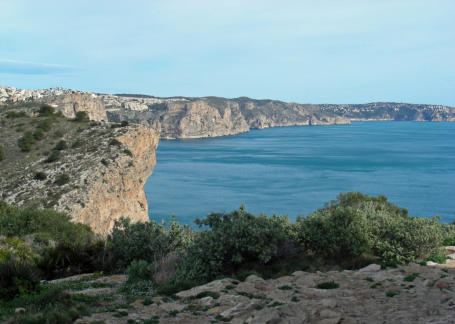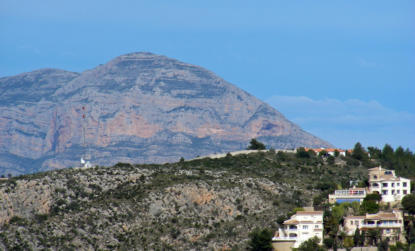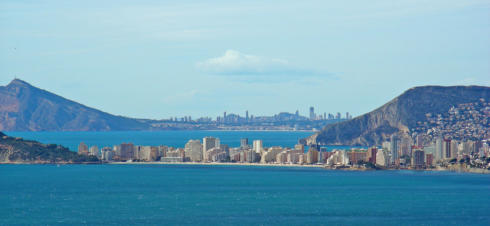 There are many more photos of Moraira displayed in our earlier visits.
We had a wonderful visit but it was time to move on. Howver, it was only a very short hop, north, to Javea (Xabia) location (5) on
the map.
We had stayed at El Naranjal campsite in 2012 when Bob and Val Johnson organised our September Gathering of Carthago Owners.
When we arrived, it seemed as if the campsite was full but they were able to offer us a pitch for just two nights.
El Naranjal was full of British, Dutch and German caravans and motorhomes many of which had been there since before Christmas.
The site is conveniently located just a short walk from Arenal beach and there are shops nearby. Unfortunately, during the first day
of our stay there was a cement lorry delivering and pumping concrete to provide a new surface around the swimming pool. The
breeze was in the wrong direction and we had diesel fumes and the noise for most of the day! Not to worry we headed for the
prom and some tapas for lunch. As you can see (below) the beach was deserted but the sun was shining, the sky was blue and the
cafés and bars were open for business.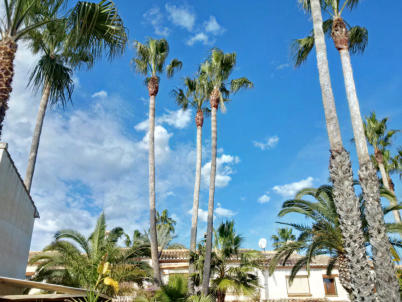 (left) Beautiful palm trees swaying in the breeze along the
street from campsite to seafront.