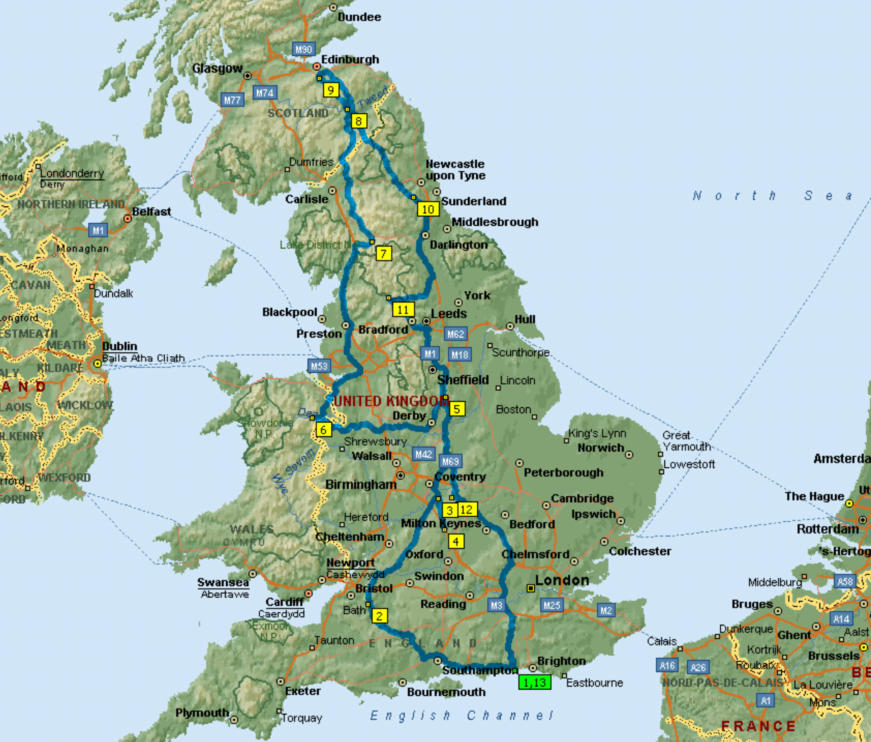 In May and June of 2016 we toured th

e

UK. Generally, across the country the weather was pretty awful but we were
lucky and had sunshine for nearly all of our tour apart from some rainy and misty days in Northumberland.
Below is a map of our route and stopovers.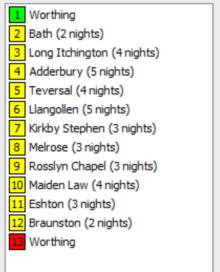 BATH, Bath Marina Campsite (2)
Our first destination was the British Waterways campsite at Bath Marina. This was a very pleasant riverside site. The
staff were friendly and the facilities, although tired were well maintained. We were told that a new toilet block is being
built during the winter.
The purpose of our visit here was to assess the site as a possible location for our Carthago Owners UK meeting in May
2017. It would have been ideal but unfortunately, the maximum number of available pitches for rallies was 40 and we
expect to have more than that next year.
It is easy to cycle into Bath city centre along the riverbank but if you are not energetic then there is a park and ride just
across the road from the campsite.
There is also a very pleasant riverside pub, The Boathouse, the other side of the Marina, a 10 minute stroll. Here they
serve good food and beer and you can sit in the riverside garden and watch the rowing club sculling up and down.
A few hundred yards in the other direction you will find the Bristol Bath Cycle Route. This is a tarmac surface and
follows the route of a disused railway. It is very scenic and you can simply take your time taking in the views but keep
a watch out for the high speed, lycra-clad enthusiasts who flash past!!
We cycled as far as the restored station at Bitton and stopped for coffee and cake before returning to Bath for some
shopping.
LONG ITCHINGTON, Warwickshire. The Green Man (3)
Our campsite at Long Itchington was a Caravan Club Certified site in the rear garden of The Green Man pub. Long
Itchington is a pleasant rural village and there are several pubs serving real ale. The Grand Union Canal passes
through the village and you can cycle along the tow path where there are even more pubs selling real ale!
It turned out that we were the only motorhome/caravan but the rest of the field was covered in tents for a cycling club
who were visiting for the weekend. These were not the lycra-clad racers but a random group of people who just
enjoyed exploring the countryside by bicycle. The group organiser was a gentleman who had been involved in a road
accident some years ago and was seriously disabled. He got around everywhere on a custom built tricycle and had
cycled up to Long Itchington from Oxford in about 8 hours. He was accompanied by his son called Apollo who was also
handicapped from birth but who rode a conventional bicycle. He was a grown man but had a mental age of six. Some
families have such poor luck.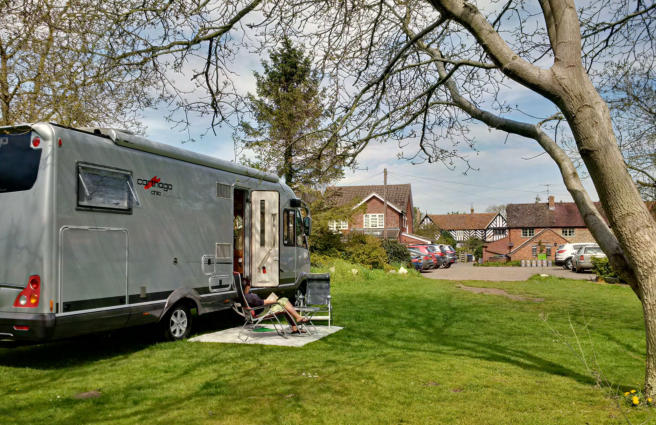 It was lovely spring weather and we were glad to be sitting out in the sunshine after the gloomy English winter.
Peter and Diane Barnes met up with us as they live a few miles away at Napton-on-the-Hill. It was lovely to see them
both. We went out to another pub on the canal, The Two Boats, and enjoyed a pub lunch sitting outside in the now, hot
sun watching the narrow boats passing by and kamakaze cyclists sqeezing between the pub tables and the edge of the
canal. Much to our disappointment not one of them fell in! Two Boats is a very good pub - recommended.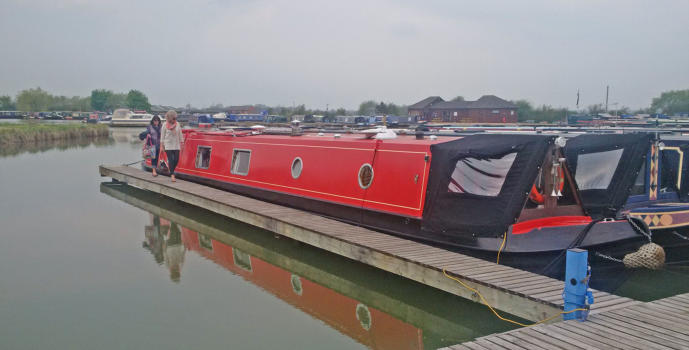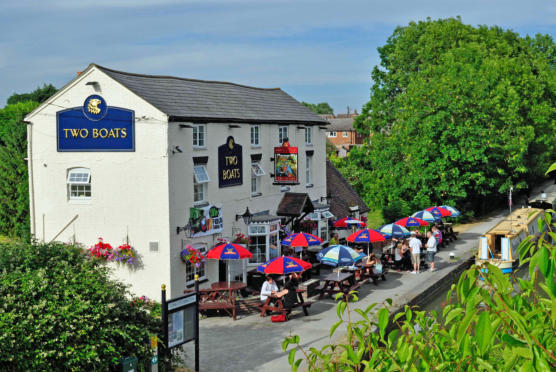 (photo left from Internet)
After lunch Peter and Diane took us to a
marina near their home to introduce us
to Brendan.
Brendan is their narrow boat.
We were both very impressed with
Brendan. It has been beautifully fitted
out with custom made oak furniture to a
very high standard.
Peter and Diane hope to get in a lot
more cruising when Diane retires.
(below) Desnée, Diane and Brendan at
Ventnor Marina.
The Green Man is a lively pub, there is always something going on and despite not serving food the landlord has a
thriving business and supports many local clubs and organisations.
This is a very peaceful and interesting location. If you are planning a trip to the Warwick area then stop over at The
Green Man you will not be disappointed. Advanced booking is essential.
In the village there is a mini supermarket which has all the items that you are likely to need. Just one word of
warning - the toilets are only open when the pub is open so you will need to use your own facilities or keep your legs
crossed !!!
ADDERBURY, Oxfordshire. Bo Peeps Campsite (4)
Bo Peeps was the location for our spring Gathering of Carthago Owners UK. As organisers we had to arrive in advance
to sort out arrangements and check all was OK for the meeting. We were expecting 49 other Carthagos and had a full
itinerary for the weekend with coach outing, catering and entertainment.
The weekend was a great success and Bo Peeps and the village of Adderbury are a beautiful location. Unfortunately,
we were told that the campsite was to be closing at the end of the year - which is a great shame.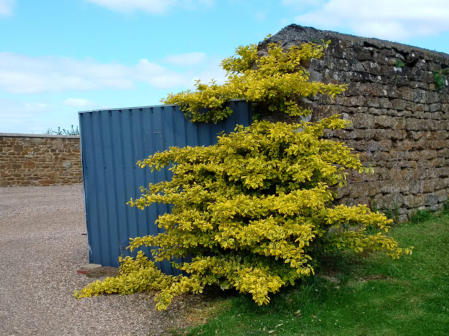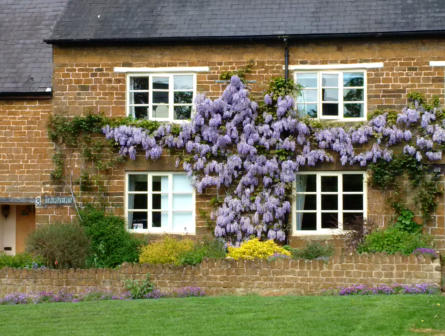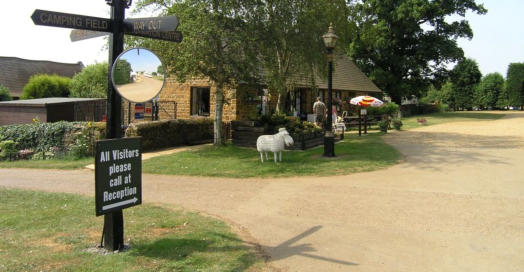 (left) The Reception office at Bo Peeps
(below) Adderbury in Bloom
We had arranged a coach outing to Blenheim Palace and we spent a pleasant day exploring the Palace and the Gardens.
(below) The Palace east aspect
Continued on the next page