U S A
In August a new grandson arrived and so after a few weeks it was time to go and visit him in Jersey City,
USA.
Our flights were through Heathrow to Newark and we used a local car hire firm to take us to the airport and
collect us on the return trip. This may be a bit expensive but you cannot beat being collected and collapsing
into a comfortable car when you have just flown across the Atlantic overnight.
In the past we have stayed over in Brian and Alexa's apartment in
Jersey City
but with young Harry arriving
on the scene we had to stay in a local hotel.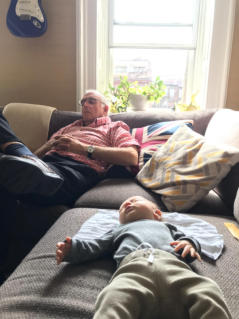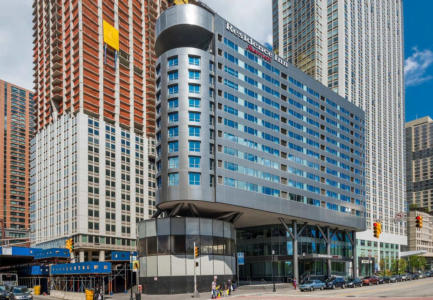 The Residence Inn (left) was very comfortable
and had full kitchen so that you could eat in, if
you wished to.
Right next door is a large deli where you can
purchase all kinds of ready meals or provisions
to create your own.
The hotel provide a complimentary breakfast
and the rooms were spotless.
Like all hotels in the New York area it did not
come cheap but from our point of view it was
just a short walk away from the apartment.
(right)
- Nanny and Harry wide awake
- Grandpa and Harry sound asleep!
We have visited New York many times and so we decided to explore a little more of Jersey City area. About
30 minutes walk away is the
Liberty Science Centre
.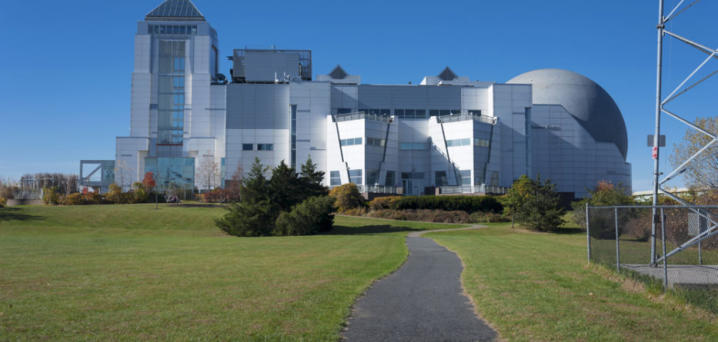 It is a huge, general science museum and made an interesting day visit. It has a super sized
planetarium. An excellent learning centre for school children with plenty of hands-on displays.
On our way there we spotted a very large and impressive RV. It was a converted coach which had been
custom made. We had a brief chat to the owner who was enthusiastic about his creation. We realised
that you could actually fit two of our motorhomes into his RV.
We were only in Jersey City for a couple of days because we were
spending a few days in
Washington
DC.
We drove down to Washington and stayed in an Airbnb that Brian
and Alexa had booked. Extremely nice accommodation and we
were right in the city!
Washington DC is a lovely city. It feels spacious, safe and clean.
We took a walk a short walk to Capitol Hill and admired the Senate
Building. Then along the Mall between all the Washington
Museums. It was a weekend and a very warm day. Many people
were out strolling. We were amazed to see the number of fast
food vans selling all varieties of take-aways!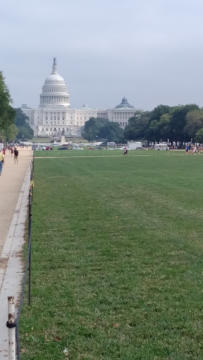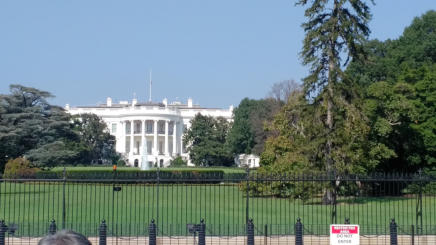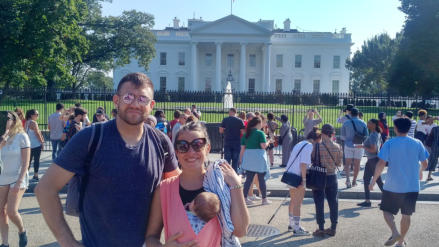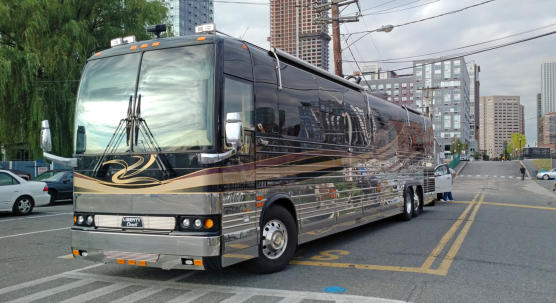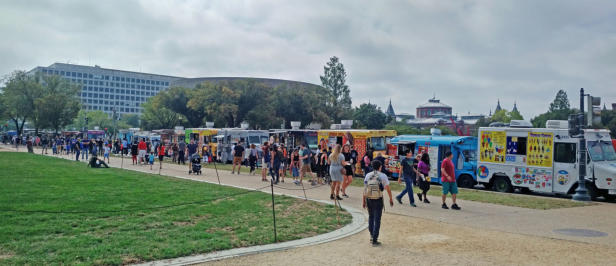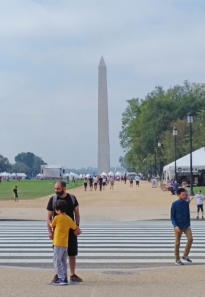 We continued down The Mall to the Washington Monument which is the iconic,
huge, white obelisk. Of course, we had to have a photo of the White House
(left) from the south and (right) from the north with Brian, Alexa and Harry in
the foreground.
The afternoon became very hot and everyone was needing a drink and a cool down inside a café before
heading home.
It was in Washington that we first saw the electric scooters which you can rent. You just find one (with some
charge left in its battery) log in, register and away you go. We were fascinated by the number of people using
this transportation system. We would have had a go but we could not find one that had any charge left!
Following day,we took a trip out of town to Annapolis, a few
miles east of Washington DC. Annapolis is the home of the
American Naval College. It is in the state of Maryland.
It is a pretty, small town on the Severn River estuary. The
narrow streets reminded us of England. We remarked upon this
to a shop keeper who responded "well it should remind you of
England - you built it".
It was indeed a charming location. We walked across the river
to find The Boatyard Bar & Grill which had been recommended
to us as the best place to eat. It was a brilliant
recommendation. The Boathouse was full of character, had a
comprehensive menu and the food was first class.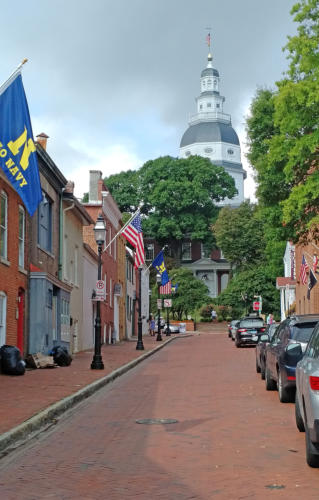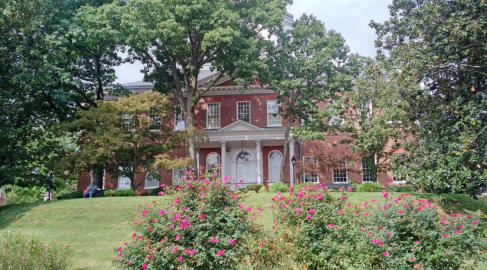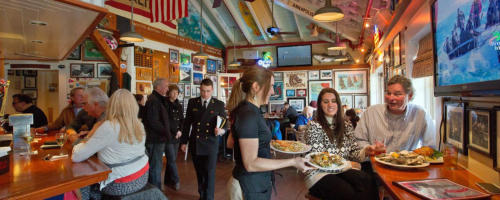 Annapolis MD was a delightful visit and it is
obvious as to why it is so popular at the
weekends.
Soon the Washington DC tour was over and
we were on our way back to Jersey City.
We visited Alexa's parents in Sergeantville
NJ on the way back and had an evening
meal with them. Normally we would have
stayed over for a while but her mother,
Maryann had recently been diagnosed with
cancer and was starting her treatment.
At the time of writing (April 2019) Maryann has
completed her treatment and is doing well.
We returned to Jersey City for a couple of days before flying home. This time we stayed in the Candlewood
Suites in Jersey City. Very basic accommodation and nothing like the quality of the Residence Inn. No
complimentary breakfast. Would not recommend.
We made a visit to New York City and went to see the USS Intrepid which is permanently moored at Pier 86
on the Hudson River.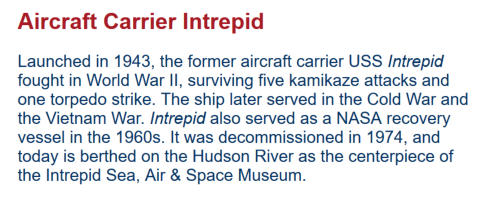 On the flight deck of the carrier is a large
display of military aircraft and helicopters
including a Blackbird.
At the far end (under cover) is the space
shuttle Enterprise. This is a huge aircraft and
the hall is filled with interesting displays
related to the space shuttle program.
You can tour the bridge and get a good feel for
how operations proceeded. The command of
the ship is from one bridge position and the
command of the flight deck is another position.
Below decks are the huge hangars which house
a vast display of air and space artifacts.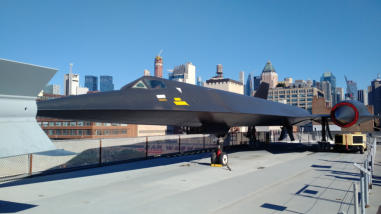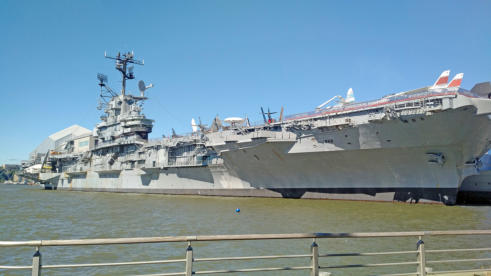 An excellent day out and we could have spent longer there. Unfortunately, Harry was getting too hungry to
appreciate the technicalities - maybe when he is older?
Next day we were on our way back home to UK and already looking forward to the next time we see them all.
We had not used the motorhome since our visit to France. Our building work was complete but still much
work to do decorating and putting things straight after the disruption. Probably, the worst part was the
brick dust which settled everywhere!
Christmas was approaching and all the preparations that go into that. It was lovely to have our home back
and to benefit from all the work that had gone on.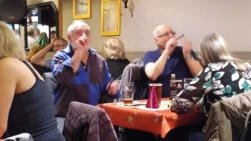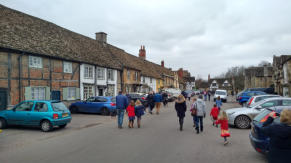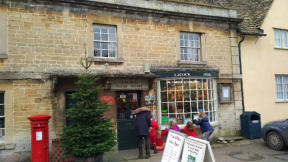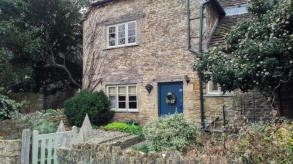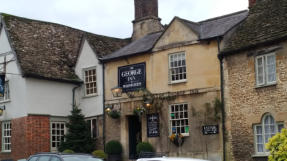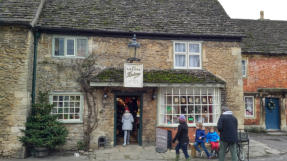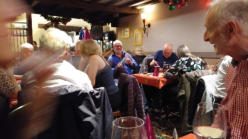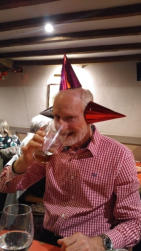 Click to enlarge
New Years Eve was in the pub
next door to the campsite, The
Three Magpies.
When we originally tried to book
in middle of the year we were
told that they were full as
people come back year after
year
We put our names on the waiting list and just before
Christmas they phone to say that they had a
cancellation. Yay!
It was an amazing evening and one of the best New
Years Eve parties we have been to in recent years.
The food was excellent and normal pub food prices as
were the drinks, there was music and entertainment.
Every table had party hats, crackers, whistles and paper
ball blow pipes. The landlady was the perfect host and
great fun (left).
(far left) Ion gets in the party mood with 3 hats!
Would we do it over again? You bet we would!
We all slept soundly that night. Another year of travel to
interesting locations and making new friends had drawn
to a close.
Back home to pay the winter bills and the tax man and
get ready for new adventures in 2019.
DEVIZES
We had arranged to go away for New Year to Devizes where we stayed on the Camping and Caravanning Club
site. We met up with two other Carthagos, Ion and Sue Acland, John and Barb Howell. They both had towed
their cars with them and so on NewYears Eve, we took the opportunity to take a trip out to to the village of
Lacock in Wiltshire. The village comprises four streets and is owned by the National Trust. It is very much
the same appearance as it was 200 years ago. It is the quintessential English village and has been used as a
film set for many period dramas.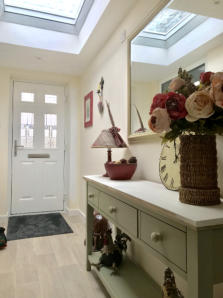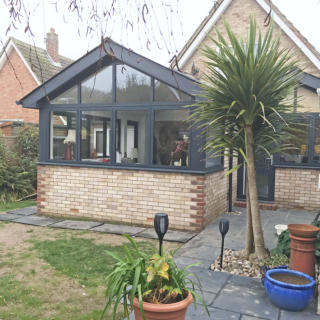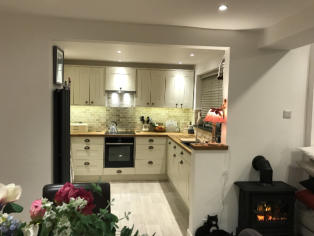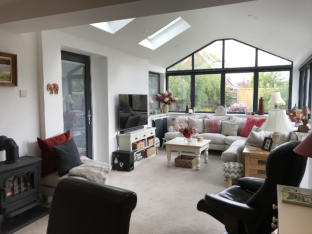 (below) new extension from rear garden
(right top) new lounge
(right lower) new kitchen
(far right) new hallway