2017 - Dorset and Isle of Wight
As usual we organised the spring Gathering for Carthago Owners in the UK. This year we had 60 other
motorhomes joining up at South Lytchett Manor campsite, near Poole in Dorset.
Making arrangements for 120 people takes up quite a bit of time in planning. We organise a day out for
everyone which means booking coaches, determining an itinerary, and identifying places to stop for food etc.
Then we arrange for evening meals for the Friday and Saturday nights and some sort of entertainment for
Saturday evening.
Beforehand we have all the administration of cancellations and managing waiting lists and then collecting
money from everyone and hoping that we have covered all the expected costs.
So, we are quite glad when the event actually starts and it is too late to worry about anything. Hopefully, it
all goes to plan as it did this year.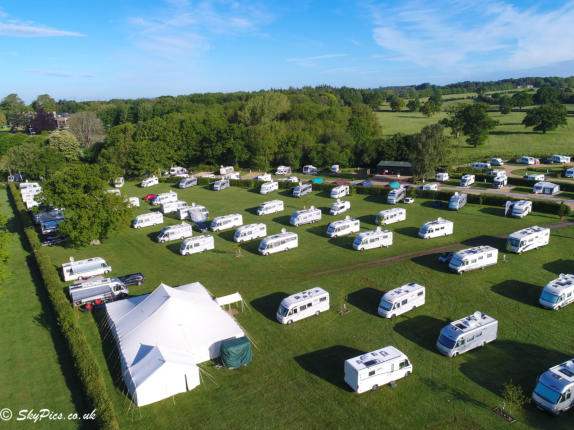 (left) Here we all are together
with the marquee that we
rented for the weekend events.
The little green box beside the
marquee is the visiting bar
called The Paddock Bar. This
was run by a lovely young
couple who hosted their bar
facilities in a converted horse
box.
These photos were taken from a
drone which was operated by
Giles Downer who uses one for
business. It was very
impressive seeing the drone
being put through its paces. A
super toy but if you did not have
a purpose then I think the
novelty would wear off quite
quickly.
The campsite, South Lytchett
Manor, was a beautiful site and
the management were really
helpful and enthusiastic. A
lovely place to stay and
explore the area of Poole
Harbour and the Isle of
Purbeck.
Our outing on the Friday took
everyone to Wareham and then
to Corfe Castle for coffee.
Then it was all aboard the
steam train for a trip to
Swanage in time for a fish and
chip lunch. The weather was
glorious an excellent day!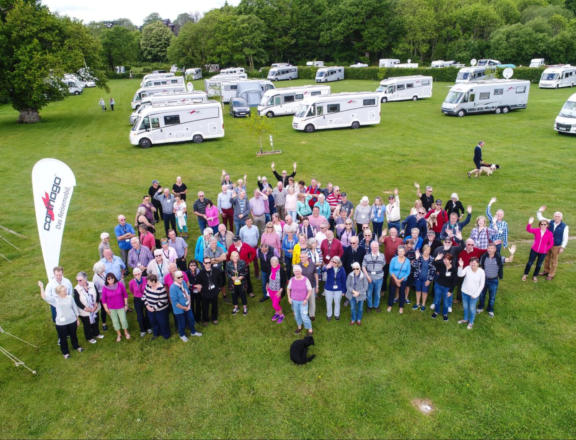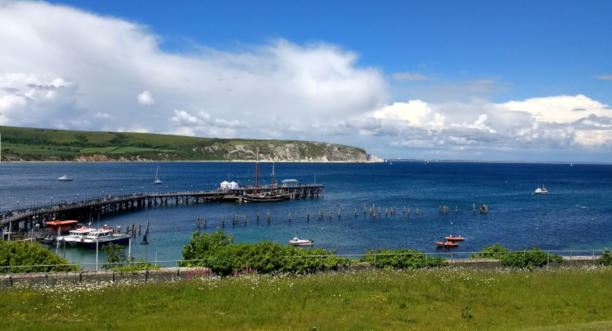 On the Saturday evening we
were entertained by Dean Ager
who treated to his rendition of
the Rat Pack songs.
We had seen Dean perform at
Rebecca Barnes wedding in
2016 and thought he would be
ideal.
We were not disappointed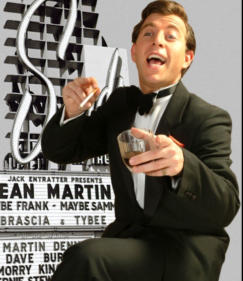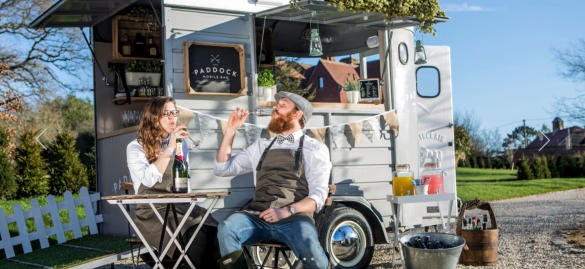 (above) The Paddock Bar
(below) Swanage Bay on a sunny May day
Isle of Wight
On the Sunday afternoon our duties were over and we headed off for the Isle of Wight.
We took the car ferry from Lymington to Yarmouth and arrived at arrived at Southlands campsite near
Sandown in time for dinner.
Here we met up with fellow Carthago owners Ken and Georgina Hudson, Richard and Sue Scott, Paul and
Deborah Kenyon. Paul and Debs are wardens at the site for 2017 and they made sure we had some prime
pitches and really looked after us for the week.
Desnée and George had not visited the Isle of Wight for, probably, 30 years and it was interesting to return.
It is still a beautiful, tranquil island. Bus passes will get you around and close to the campsite is a cycle
track which follows a disused railway line from Sandown to Newport and on to Cowes.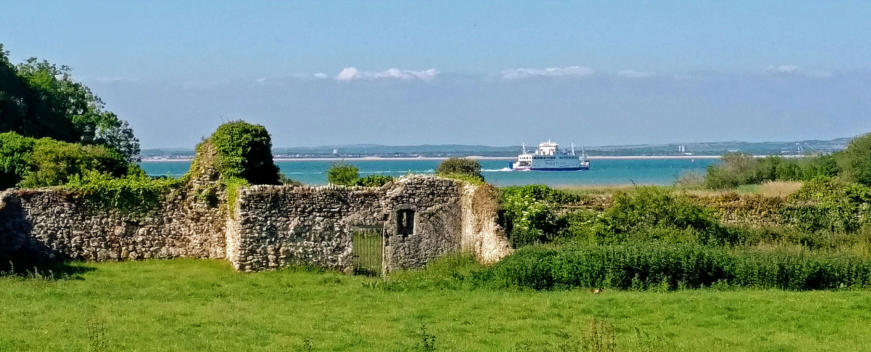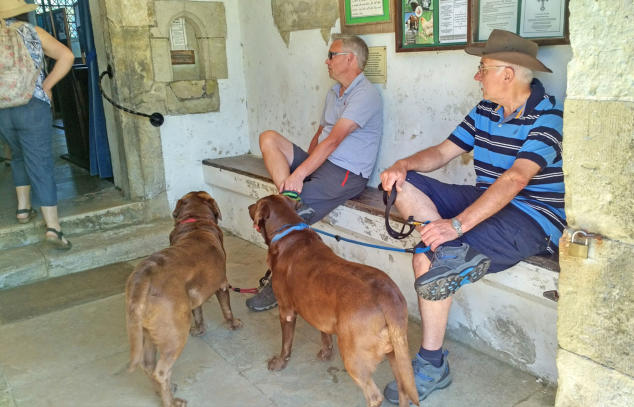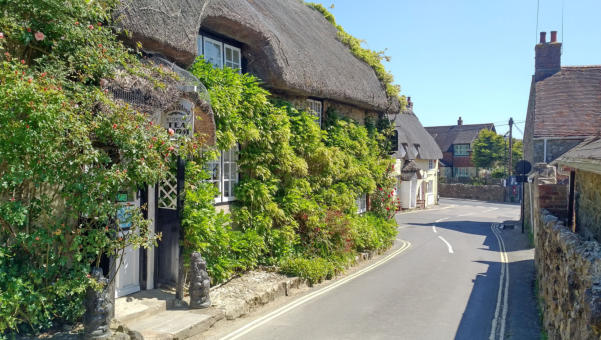 (top) Fishborne ferry sails
(above) Empty roads on the
way to Freshwater from
Ventnor
(left) Godshill, as pretty as
ever!
(below) Paul and Ken (in the
hat)wait in the shade of the
church at Godshill while the
girls explore inside. Dan and
Max (Ken's chocolate
labradors) enjoy the break
from the sun.
While on the island George and Desnée took a bus ride to Ventnor to carry out some family history research.
Georges great grandfather, Henry Field, used to have a tailoring and outfitters business in Ventnor and
married a local girl.
The shop is no longer an outfitters but is a tea shop and so we were able to go inside and were pleased to see
that little had changed in the structure of the building. The proprietor knew the history and directed us to the
Heritage Centre, just around the corner. The lady in the Centre was very helpful and managed to find quite a
large amount of news articles and photos for us.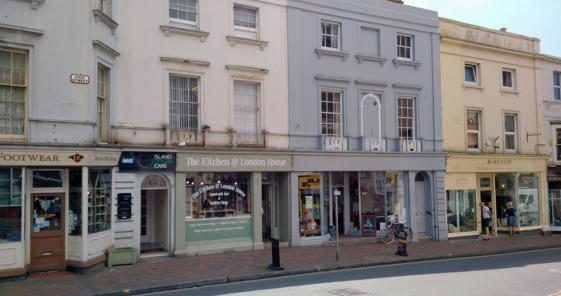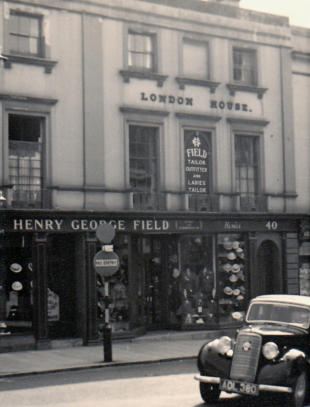 (above) shop as it is now (mid grey in centre of photo)
(right) shop in late 1940s
Ken and George made a visit to the
Havenstreet preserved railway. Very
impressed with the quality of work that has
been performed by volunteers. It is only a
small railway with a relatively short run but
it has a lovely nostagia about it. Worth a
visit.
(left) the restored rolling stock is a work of
art. This is just one of the many restored
coaches that ran on the island lines.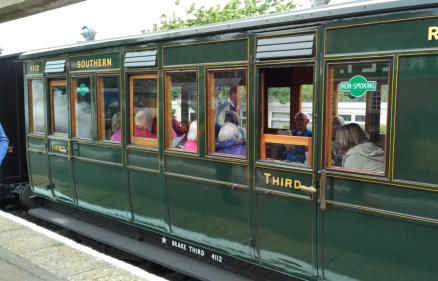 We had a good week on Isle of Wight and agreed that we should visit again and do a bit more exploring around
the island and a bit more research into family history. Maybe bring the car next time or hire one on the island.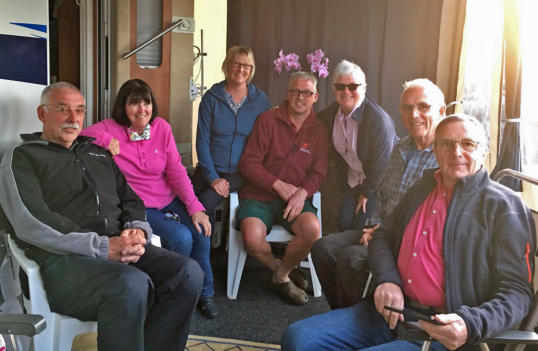 Each evening we would arrange a get
together at one of the motorhomes and
have a few drinks and a meal together.
(photo right)
from left:
Ken and Georgina Hudson,
Deborah and Paul Kenyon,
Sue Scott,
George,
Richard Scott.
Great company - thank you!