Cold and drizzly in February in the UK. Christmas is over, bills paid, thank you cards all sent and now a long wait
until Spring!
Time for us to head off to Spain for some sunshine and warmer weather.
As in 2015 and 2016 we were visiting Camping Azahar in Benicassim. We choose this town for the lovely
atmosphere. The weather is as good as anywhere else in Spain, sometimes better, and the town is very much
open.
Benicassim is a small town but has everything one needs. Camping Azahar is a bit tired but the staff are
charming and the visitors return yeaar after year.
We now feel 'accepted' as regulars and have established some lovely friendships.
As last year, we were accompanied by Keith and Fran Gander in their motorhome, which is new this year!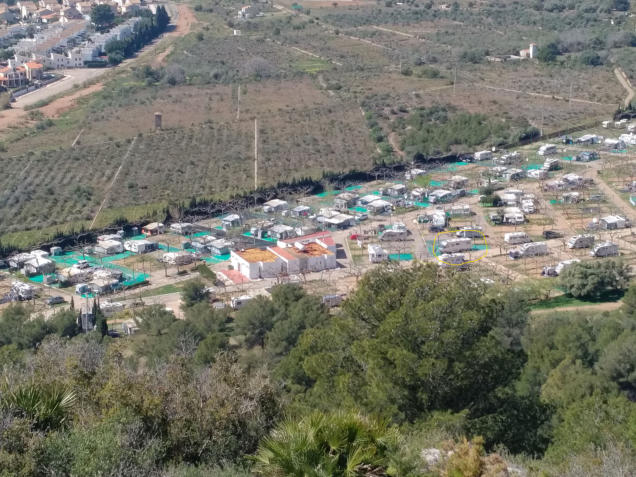 Left - a view of Camping
Azahar from the nearest
hilltop.
The town is off to the
top left and an easy
walk or cycle ride.
This is us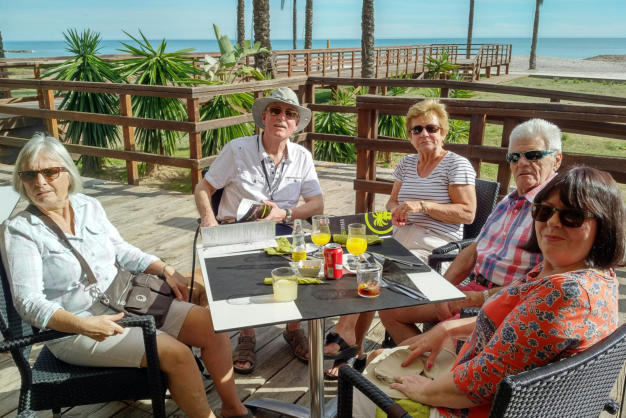 Happy Campers from
Worthing enjoying a lunch
by the sea!
left - right
- Sandra and Jeff Rance,
- Frances and Keith Gander
- Desnée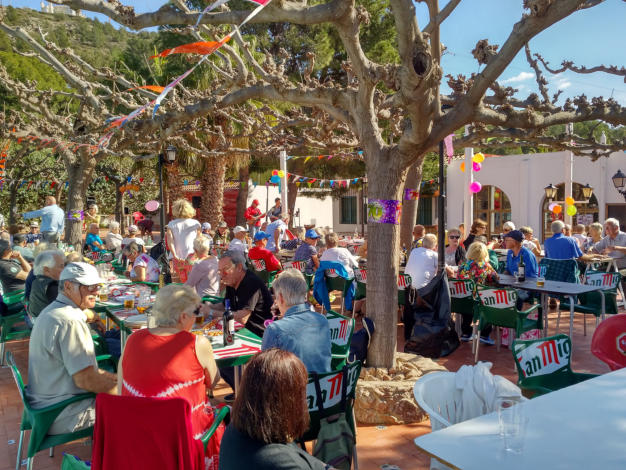 The traditional, annual 70th
birthday party.
Each year a party is arranged
for everyone on site who is or
will be 70 this year.
Every couple bring food to
share, the local band and disco
turn up and play for free and
the campsite open the bar.
It is a good day.
(below) Benicassim seafront.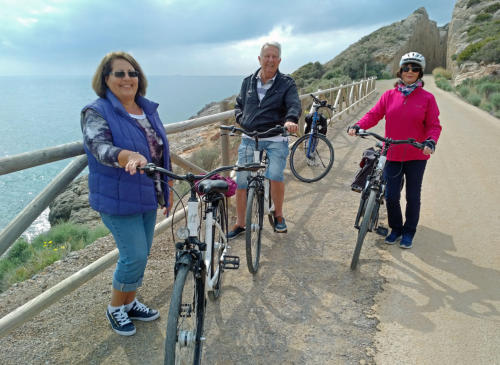 Bob and Caroline Shepherd were in Spain at
the same time staying in their apartment in
Teulada (about a 2 hour drive to the south).
They drove up to Benicassim and stayed at
the Voromar Hotel for a few days. They
managed to hire bicycles from the hotel and
joined us on a trip along the beautiful, cycle
path which follows the coast.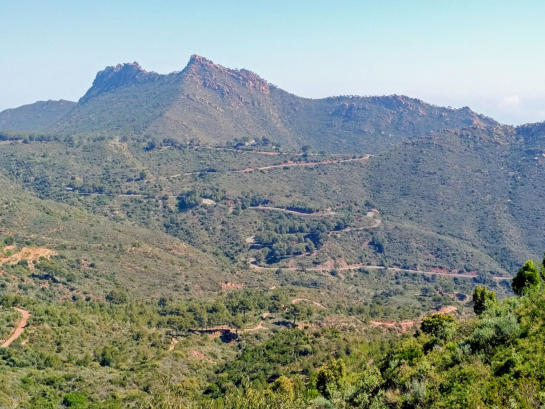 This year, George joined Desnee by
buying an electric assisted bicycle.
You still have to pedal but you can dial
in a variable amount of extra
assistance to help you up the hills or
against a strong headwind.
Perhaps best of all is that the electric
power allows you to go further than
you would normally normally venture.
Very pleased and impressed with the
new bike, a CUBE Hybrid Pro Trek 500.
Rode all the way up the road in the left
hand photo without stopping and only
using the lowest power assist setting.
If you use the most powerful setting
then , even as an old git, you can ride
up that same road at 30 kph!!
I was reluctant to move away from the
old ,pedal power only bike but this has
opened up a whole new world of
cycling - love it!
Unfortunately, Keith and Frances had to
rush back to UK as Frances' brother
was seriously ill.
A short while later we were joined by
their daughter Sharon and her husband
Paul who stayed in the on-site
bungalow for a few days.
Paul and George decided to climb the
nearby mountain.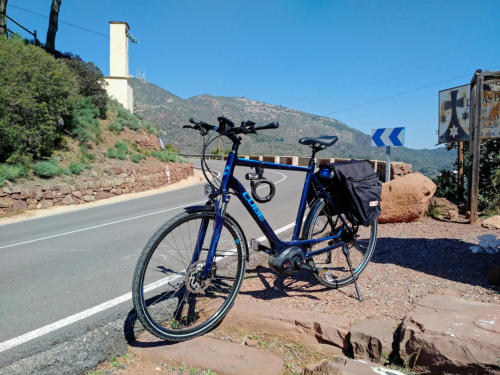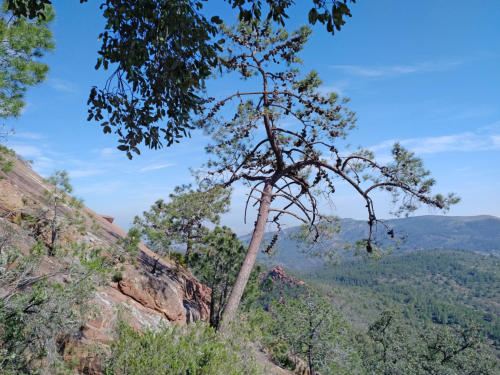 (left) Paul standing atop a rock outcrop with views into the valley
in land from the campsite.
(below) It became very steep near the top, with only a few
handholds. We agreed that next time we should take ropes with
us!!!
George had trouble with his teeth. The dentist in the UK had told him that two teeth
needed to be extracted but as his dentist was not a 'dental surgeon' and the
extractions were complicated, it was necessary for her to make an appointment for
George at the hospital. We had received an appointment after waiting 13 weeks but
this was whilst we were in Spain. We phoned the hospital to defer the appointment
only to be told that it could not be deferred and if we could not make that date then
George had to go back to his dentist and start the process all over again - arrrgh!!
This we had done and were awaiting a new appointment. However, the teeth due for
extraction were causing problems and so George decided to visit the dentist in
Benicassim to see if some temporary fillings could be made. The answer was "No,
those teeth need to come out - now". This lady dentist was a dental surgeon and she
was confident that she could do the job! George asked when she could do the deed
and she said "Now!" The end result was an excellent and very professional piece of
work and half the price of the NHS in UK. We resolved to save any dental work that
we can until our next visit to Spain. Better job, better price and much, much better
waiting times!!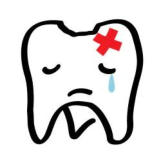 Talking to other people on the campsite we heard similar dentistry stories and we also discovered that in
Castellon (next town south) is a dentistry teaching hospital where they are more than happy to work on British
patients.
We enjoyed our latter days in Benicassim as the weather gradually warmed up. However, many of the people who
had over wintered at Camping Azahar started heading for home and in the last two weeks of March the campsite
was feeling very spacious.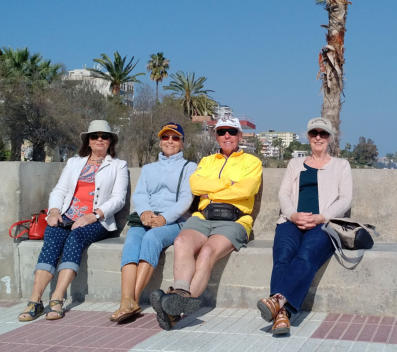 We teamed up with Richard and
Brenda, Tom and Jan and enjoyed
some cycle outings with leisurely
lunches.
(right) Desnée, Jan, Tom and Brenda,
with full tummies, enjoying the
afternoon sun.
All too soon, it seemed, it was time to
head for home ourselves. Easter was
approaching and the campsite was
beginning to fill up with Spaniards
who were setting up for the summer
season. Good luck to them - it would
be far too hot for us!!
This year we had decided to travel back by sea from Bilbao to Portsmouth, rather than trek north across Spain and
France.
Consequently, our route took us back across Spain to Bilbao. Our first days journey was quite long as we had
arranged to rendezvous with Ray and Julie Hankey (fellow Carthago owners) in a small village north west of
Zaragoza called Cascante. Usually we would stop sooner at Zaragoza.
We entered the co-ordinates in to the Sat Nav which took us to Cascante village but SatNav then took us down a
narrow road which now had a house built across the exit route!
We had to make some very tight turns and wriggles to get back to the main street. A little bit of searching and we
found the aire which is part of a larger car park. Very pleasant place for a night stop and it was great fun meeting
up with Ray and Julie again.
The next day took us to Bilbao and the 24 hour ferry journey back to Portsmouth.
A very enjoyable tour and lovely to escape the grey winter days in UK and then to come back to spring.