No motorhome this time
but a flight to
U S A to visit Brian and
Alexa in
Jersey City
and
then fly with them down
to Georgia and the town
of
Savannah
.
We were joined in
Savannah by John and
Maryann (Alexa's
parents) and afterwards
we returned to their
home in
Sergeantsville NJ
for a few days before
returning home.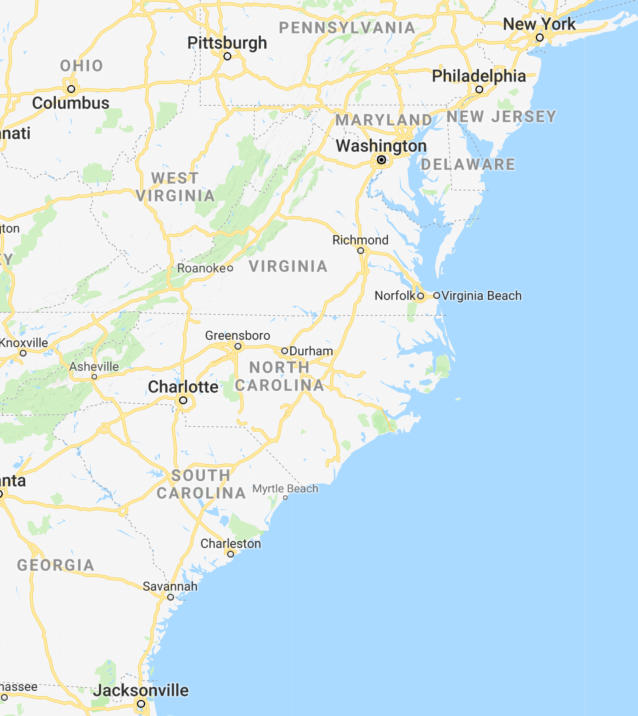 JERSEY CITY
Brian and Alexa have an apartment in Jersey
City which is just across the Hudson River
from Manhattan. You can walk for 5 minutes
and you are right on the riverside. A ferry will
whisk you across to New York City.
We have 'done' New York several times and
the city does not really have any appeal to us
now. It is very busy, noisy and expensive.
Instead we explored the Jersey City side and
took a walk into Liberty State Park. This used
to be a busy railhead and ferry terminal for
commuters but now the area has been cleared
and a very pleasant park has taken its place.
However, the old commuter station and ferry
terminal remain as a museum to earlier times.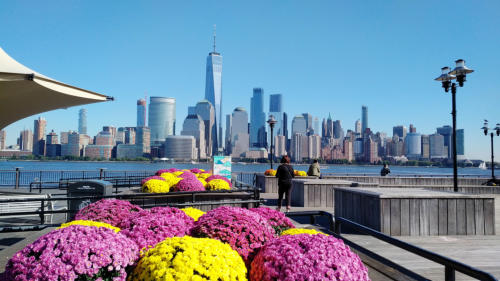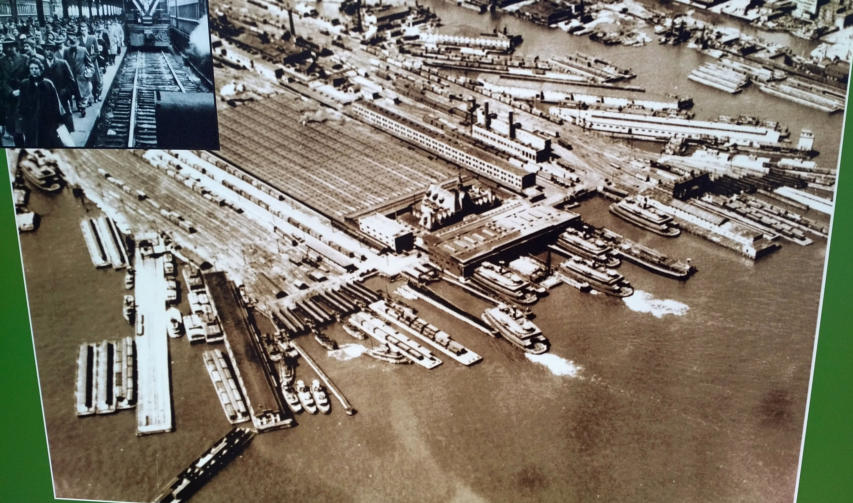 The old photograph (below) shows how the terminal looked back in 40's and 50's. In the centre of the photo is a
large, taller building which is the station itself oriented to passenger traffic. Above and diagonally left are the glass
canopies of the platforms. I think there were about 20 or more platforms. Below and diagonally right you can see the
passenger ferries bustling for slipways. Either side of the passenger termonal are the freight lines where wagons
were loaded on to rail ferries. You can see these longer, flat ferries with two lanes of six freight cars already loaded.
The inset photo is just one of the busy platforms with the train jsut departing to allow room for the next one to arrive.
Not a disimilar scene to our London commuter termini but the river crossing and the freight adds much more activity.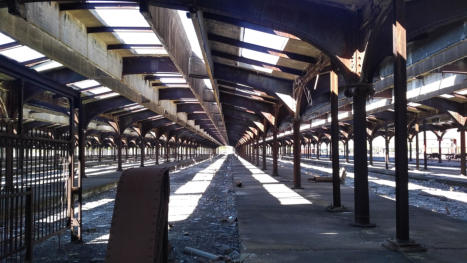 (right) the station
platforms and canopies
still remain but the
tracks, trains and
passengers have long
since disappeared.
Click on photos on right to
enlarge
The passenger terminal
has been restored and is
a spectacular building.
There is no evidence
now of the freight yards
but in their place are
large areas of parkland
with spectacular views
of the Manhattan
skyline. (below)
A short distance away
to the south, on the
same bank of the
Hudson River, is the
Statue of Liberty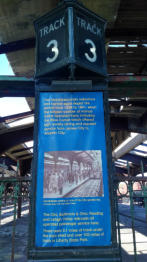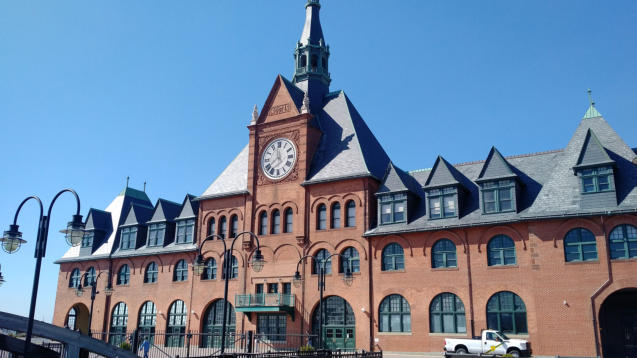 Within Liberty State Park is a memorial to all those who lost their lives in the
9/11 disaster.
Click on photos on far right and below to enlarge.
The momorial is two parallel, black, stone walls which have all the names
engraved in them. Looking through the gap between the wall takes your eye
across to Manhattan and the location of the Twin Towers.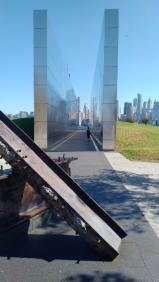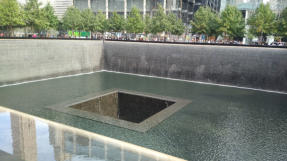 In Manhattan, there is also a dramatic
memorial where the Twin Towers stood.
Each tower base is represented by an
enormous, square, walled water feature.
In the centre of each is a square hole
where the water pours into; you cannot
see the bottom. A very moving reminder
of the tragedy.
SAVANNAH
After a couple of days in Jersey City we flew from Newark down to Savannah in Georgia.
The weather was warm and sunny but quite humid. We took an Uber taxi into town to meet up with John
and Maryann (Alexa's parents) Their hotel which was located on the town quay and was a converted cotton
warehouse.
Our accomodation was about a mile away. Brian and Alexa had booked an AirBnB for the four of us. The
AirBnB was a delightful location in the old part of town.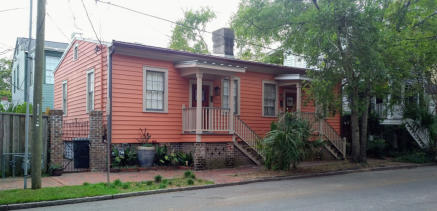 It did not look much from the outside but inside it was beautifully furnished and provided all the appliances
and equipment that you need for a comfortable stay.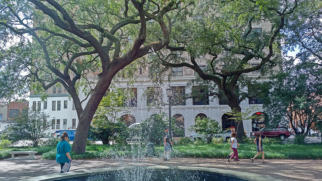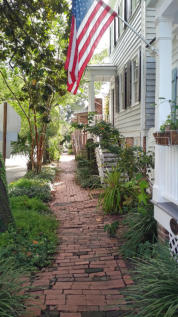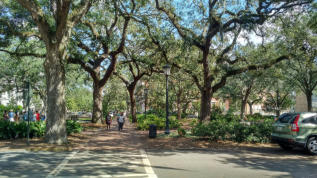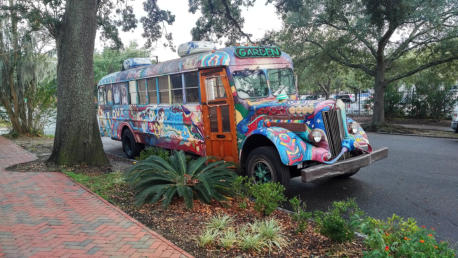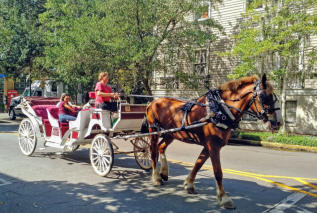 Click on the photos to enlarge.
We could not resist taking a snap
of the Savannah style motorhome
which had been customised from
an old school bus.
Brian, John and George decide to have a hiking trip through the back country swamps. Skidaway Island State
Park was short ride away in an Uber taxi, which dropped us off at the Ranger Station.
Below is a clip from the State Park website which gives you a good feel for the countryside.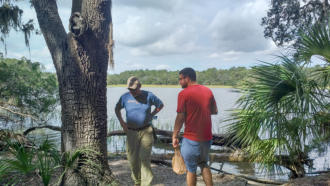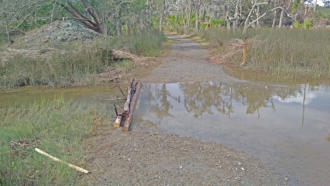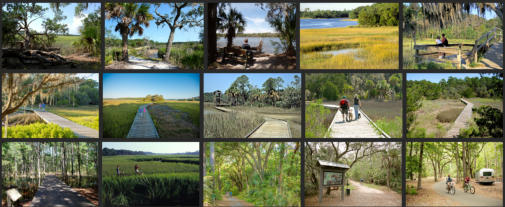 As usual clip to zoom
Upper right, Brian and John take a break.
We did not have high enough boots to wade through this small
river and so we had to be good boy scouts and build a makeshift
bridge from branches to get across with dry feet! (lower right)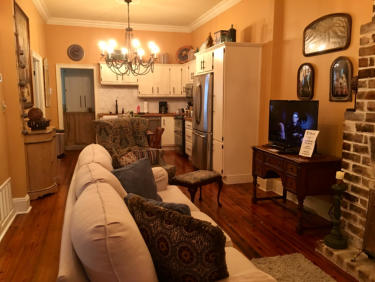 Savannah was built in the colonial days and influenced by both English and French. The houses are
charming and full of character. Every few blocks you will find shady squares with fountains and flowers.
We loved it!