This year we decided to travel out to Spain by ferry
rather than drive down through France. The return
journey would be north across France.
The outbound ferry was cancelled due to a North
Atlantic hurricane and we actually sailed four days
later than we expected. Rather than sailing directly
to Santander, as we had booked, the rescheduled
ferry called into Brest and this delayed us yet another
day so we were now five days behind our schedule
and arrived in Spain at Bilbao
[1]
and not Santander.
No problem we just shifted everything forward.
We were travelling with our friends, Keith and
Frances Gander throughout the trip and were
meeting up with our neighbours, Geoff and Sandra
Rance in Benicassim.
We forgot to unblock toll routes on our Sat Nav and
so we were guided into Bilbao town centre rather
than quickly picking up the Bilbao - Zaragoza
motorway. The streets in Bilbao were becoming
busier and narrower and both of our Sat Navs just
ended up going round in circles - arrrgh!!
It was no good attempting to map read because we
did not know exactly where we were in Bilbao! Back
to instinct and road signs to find our way out.
After losing about an hour we picked up the AP68
motorway and headed south east across Spain towards
Zaragoza
(below) coffee stop on the route south - note The
Pyrenees in the background.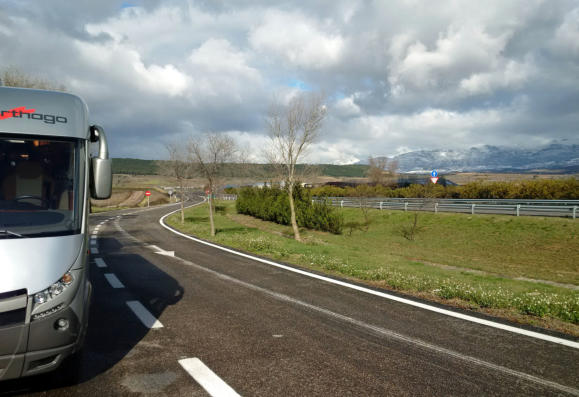 We arrived at the
Camping
Cuidad de Zaragoza
[2]
by late afternoon. This campsite is nothing special but it is quite
suitable and safe for an overnight stop. Across the road, and some rough ground, is a shopping area with cafés and a
supermarket, very handy to stock up your freezer (if you emptied it whilst on the ferry due to no mains power). We
were fortunate enough to have mains hook up on the ferry which you can ask for at check in - but there is no guarantee.
Poor Keith had caught one of his locker drawer fronts on a low level post whilst entering the site and so we had to
undertake a quick repair to get him back roadworthy for the morning. A few bungees came in handy to make running
repairs and a proper fix was planned for when he got back to UK.
Next day we were on our way again. We had decided that we could reach the campsite in Benicassim within an easy
days driving. As we neared the Mediterranean coast we passed a very interesting mountain top town that looked as if it
would be well worth a visit at some time. We later discovered the town is
Morella
, located on Route 232, and is a well
known attraction in the area.
We arrived at
Camping Azahar in Benicassim
[3]
late afternoon and checked in for a one month stay. We had stayed here
last year and enjoyed it so much that we decided to return again - we were not disappointed.
There is a smarter, more formal campsite just along the road, Camping Bonterra Park, but we prefer the more laid back
atmosphere of Camping Azahar.
Have a look at our photos and description from Spain in 2015. Here are a few more photos and text from this year.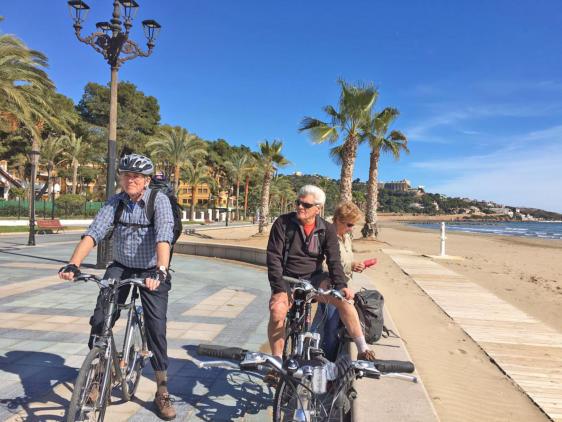 One of the many things that we like about Camping Azahar is the friendliness of the other campers. They are not intrusive
but more than happy to help with problems. Everyone mucks in together and there is plenty of good hearted banter. Many
have been regular vistors here for years and we were flattered at how readily they accepted us into their social group.
Shortly after we had arrived there was a birthday party organised for everyone who was born in 1946 (i.e. 70 this year).
There were 12 people who qualified but everyone on site joined in the party. The campsite opened the bar and laid on
tables and chairs on the patio by the pool. The local band came along and played for free and all the campers (of all
nationalities) brought along a large plate of food to share out. It was a super day and great fun.
(below) The birthday boys and girls - Sandra 4th from left.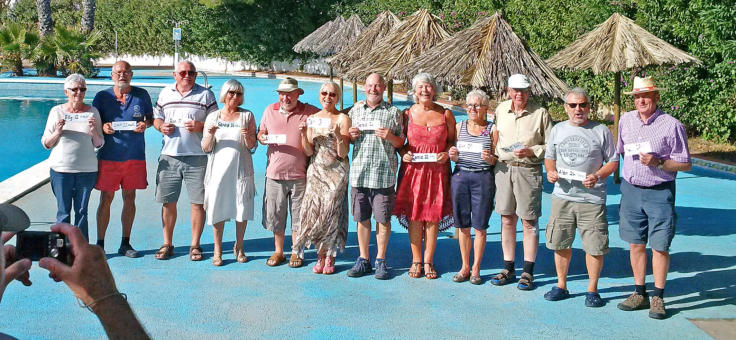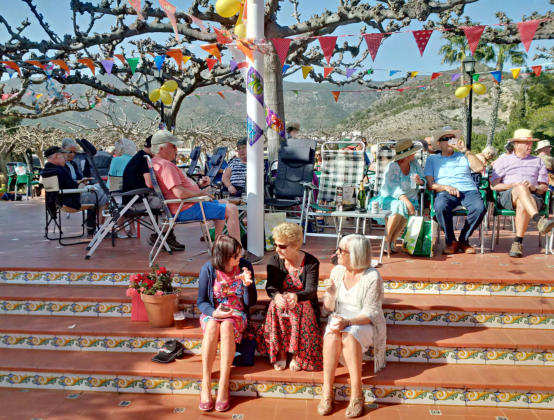 (left) Desnée, Frances and Sandra catch
up on the gossip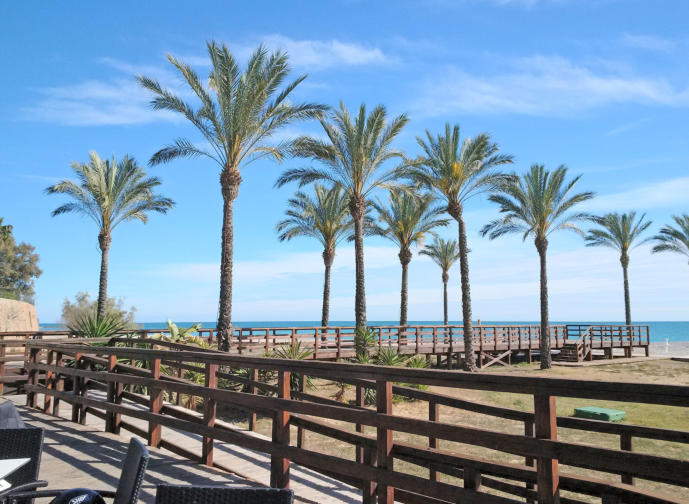 (right) beach bar Bavarra
which is a fantastic spot
for a lazy lunch.
We could cycle here along
the prom and boardwalk.
Cycling is strictly
prohibited but nobody
takes any notice at this
time of year.
VALENCIA
Another pleasant surprise for us was that we were invited to join in a pre-arranged coach trip into
Valencia.
As we had
never visited Valencia we decided to go. The old part of the city is lovely but there is also a very modern area where there
are a number of museums and technology centres. Time did not permit a visit to the modern area buy we managed to take a
few snaps as we passed by in the coach (below).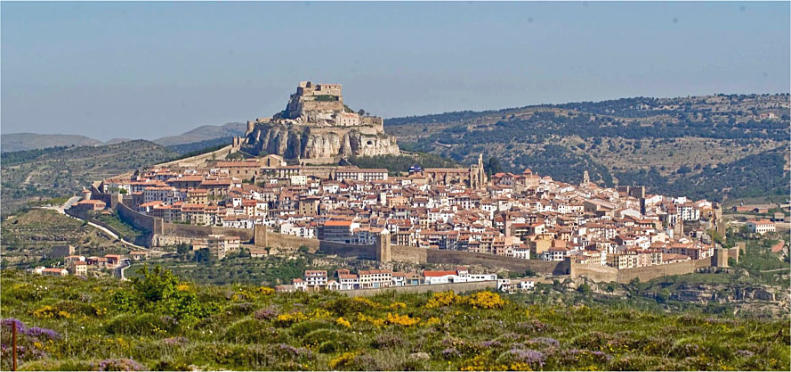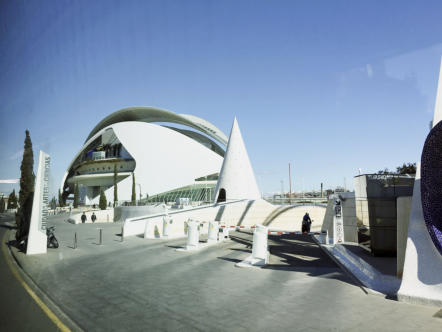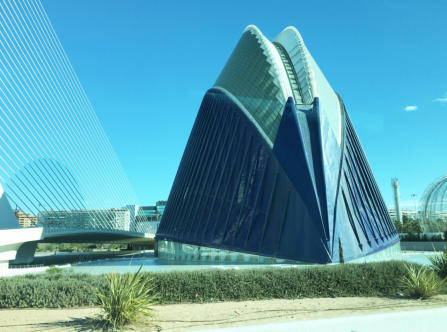 The city centre was just as impressive with traditional Spanish architecture. In particular, the main railway station is worth
a visit as it is decorated with beautiful, glazed tile murals. The photos (left and right) are just one of the walls in the station
Waiting Room.
The room is about 20 feet high. As you can see, the ceilings are also just as decorative.